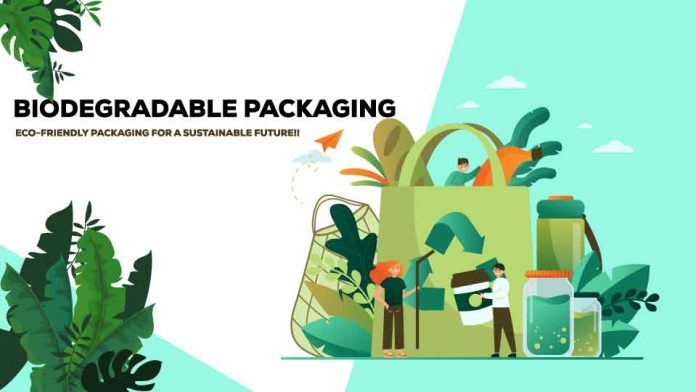 Biodegradable packaging has become one of the most significant affair in the present sustainable development era. The human era started a few decades ago, and rapid industrialization happened everywhere.
Rapid mechanization also improved human living conditions and influenced everyone to use more non-degradable materials, which negatively affected nature in so many ways.
The use of non-degradable elements caused soil, air, water and noise pollution. But, the concept of "Green Living" is becoming easier in these times.
Lets find out what is Biodegradable packaging really means by and how its impact on businesses, individual level along with environment. In this sustainable era already many big company start to practices their sustainable activities upholding biodegradable packaging is one of them.
What is Biodegradable Packaging?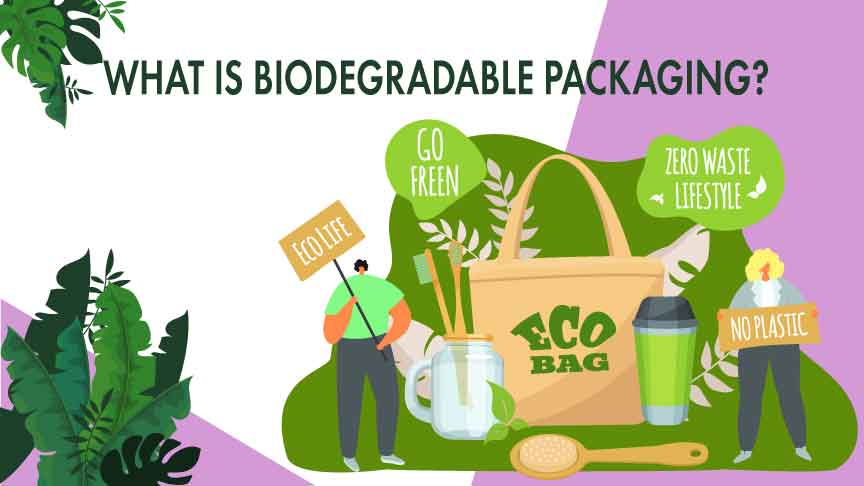 Biodegradability is an attribute that determines whether the material will decompose by bacteria's or not. More precisely, a biodegradable material will disintegrate by a natural microorganism. So, if an artificial element has biodegradable properties, then it is safe for nature.
And the packaging stands for the science of protection or enclosure of a product for safe distribution and storage. This concept includes wrappers of chocolate, tablet strips, plastic bags, bottled drinks, a packet of anything, and boxed stuff.
So, biodegradable packaging or sustainable packaging is a process that includes the development and use of environmentally friendly elements to use as the enclosure. More briefly, The packaging process that uses life cycle inventory (LCI) and life cycle assessment (LCA) can be described as biodegradable packaging.
Biodegradable packaging should have these properties- 
This process will have fewer impacts on nature.
A new look towards the manufacturing processes.
Using biodegradable elements to create materials.
It's a continuing process of improvement.
The outcome of this process will be eco-friendly.
What does Sustainable Packaging mean in Practice?
This new manufacturing processing or usage will not destroy the economic balance, yet improving it further. So, sustainable manufacturing enables humans to start "Green Living."
Sustainable packaging should meet these requirements to replace the traditional packaging process,
This packaging will have efficient functionality. 
More affordable.
Ease of use. 
Most crucially, saving the planet while performing. 
Why is Biodegradable Packaging Necessity in Online Businesses?
In the present business schemes, customers will show interest in an environmentally friendly approach or charitable efforts. Biodegradable Packaging Necessity in Online Businesses because of-
Toxic and Hazardous Elements Free Processing.

Fewer Resource Requirements.

Safe Footprint.

Favorable Disposal of Materials.

Easy Delivery.

Represents Effective Buyers Journey
People who love the concept or tactics of green living are increasing day by day and love to buy the products that were manufactured without hurting nature. So, for these consumer behavior patterns, biodegradable packaging represents a chance for growth in both physical and online business platforms. 
This process will be more versatile than other unsustainable packaging processes because manufacturers will reduce the cost through more working efficiency of laborers and managers.    
Moreover, sustainability ensures a lot of things that a business thrives to achieve. Through biodegradable packaging, companies can extend beyond their reputation.
Toxic and Hazardous Elements Free Processing
Biodegradable packaging represents fewer options and less material supported. Yet, most of the materials are supported by sustainable packaging are non-toxic, no harmful chemicals, and side-effects free. For these properties, workers of the brand and at the same time consumers are safe. Moreover, companies can ensure a safe and reliable product to customers. 
If consumers think that their purchased products have gone through harmful processing will lose interest in the product, and that business will thrive for customers in no time. 
Furthermore, an aware customer chooses bioplastic packaging over other traditional alternatives because they know about the harmful effects of non-biodegradable materials. 
Fewer Resource Requirements
One of the common nightmares for business owners is the required resources for their business. A typical business owner has to think about how much money he has to spend on all the needed resources, including labor. And, after that, he has to ensure a safe working environment for his workers (more expenses) 
Converting the usual packaging process into a fully scaled biodegradable packaging process can reduce the resources needed. 
And why is that? Because biodegradable packaging can assure less water usage, non-toxic waste materials, less power, efficient emissions, and benefits nature. One thing that most likely will be loved by the business owners is fewer expenses. Like this, business owners can focus more on product quality. 
Safe Footprint
Businesses try to attract customers through customer-centric strategies, honest goals, and responsibility. While completing these achievements, he has to meet his financial goals too. 
But, environmental goals are the priority for all business owners. To ensure it, each professional in a management position has to take full responsibility. Biodegradable packaging can help to complete these duties. 
A statistic shows that 70 percent of buyers, ages between 15 to 20 (mostly teenagers), take the initial step of buying from a company perpetrated to be sustainable and eco-friendly. Reduction of emissions and increased interest can only be possible through significant developments. 
Favorable Disposal of Materials
Consumers want to dispose of waste products because It allows them sufficient opportunities to dump these materials. Biodegradable packaging simplifies the recycling of that waste.
For these reasons, companies want to make their products convenient from the beginning of the development. Biodegradable materials elucidate this process.
Moreover, recyclable packaging can make the product more valuable beyond its initial utility.
Easy Delivery
Biodegradable packaging made home delivery services possible to happen in an area or region-to-region based. Fast delivery service requires some basic properties of that delivered product.
Delivered product enclosure has to be,
Less in weight.
More protective from outside.
Ensure safe disposal of the container.
And smaller in size.
If a delivered product can meet these packaging properties, then the delivery man and the consumer can efficiently go to their next steps. The delivery man can provide products with ease, and the consumers can get these products quickly.
Furthermore, this transaction process creates a sustainability scope in the future and makes less impact on nature.
Represents Effective Buyers Journey
A buyer's journey is a 3 phase concept of consumer behavior patterns. These are-
Awareness stage.
Consideration stage.
Decision stage.
Businesses should be designed to influence these stages of the buyer's journey to create successful leads. Offering a consumer something pleasant about their company, such as directly showing their manufacturing and packaging process is eco-friendly, can effectively influence the customers to buy from them.
Do you know, 40% of worldwide purpose-driven customers will choose a brand that ensures sustainability, eco-friendly products, and respects consumer's moral values.
What is the Difference between Biodegradable Packaging, Home Compostable, and Unsustainable Packaging?
These three types of packaging processes are familiar to people. Unfortunately, unsustainable packaging is the most accepted process in the present times because manufacturers can get more output material.   
This table will show the differences between these three types of packaging process-
Subjects
Biodegradable Packaging
Compostable Packaging 
Compostable Packaging 
Short definition
1. Using environmental-friendly elements for packaging, distributing, and storing can be described as biodegradable packaging
1.ing waste materials as the initial resource for packaging can be described as compostable packaging
1. Using toxic, unobservable, and non-biodegradable elements for packaging, storing, and distributing can be described as unsustainable packaging

 

Produced materials
2.Outcome materials are eco-friendly
2.Outcome materials are eco-friendly
2.Outcome materials are not eco-friendly
Used elements
3. Some biodegradable items are not compostable
3. All compostable items are considered biodegradable
3. Unsustainable items are completely different
Nature Sustainability
4. Biodegradable packaging elements are observable by nature
4. Compostable packaging elements are observable by nature too.
4. Unsustainable packaging elements are unobservable by nature
Cost efficiency
5. Use fewer resources to begin
5. Doesn't require any initial expanse to begin
5. Most expensive packaging process
Impact on nature
6. Has a positive impact on nature.
6. Has a somewhat positive impact on nature
6. Has the highest negative impact on nature
Required resources
7. Can use recyclable resources for production.
7. Uses recycled resources for production.
7. Requires new resources for production.
Biodegradable Packaging Materials: What Sort of Materials are Available?
Some materials are already biodegradable by their nature. These materials are recyclable, reusable, and compostable. But, the problem is that not all biodegradable materials are perfect for manufacturing. 
Manufacturers use many types of processing before making it entirely usable. Materials such as paper, hemp, straw, bamboo, beeswax, and cotton are organic. These materials are often used to produce biodegradable bags, bottles, and boxes. 
However, the problem is these materials can't give superiority like plastic-based materials. Plastic offers more protection, preserve for long times and is more reliable. 
The problem is plastic directly damages nature because it's a non-biodegradable material. But, developed countries increase plastic production each year. 
We are producing 30 billion tons of non-degradable plastic and using it for a moment. This massive amount of plastic may not be harming us directly but creating massive effects for the planet. 
However, bioplastic can be a solution to this uprising problem. Usual plastic is petroleum-based chemical bonds that may take decades to break. But, bioplastics are made out of natural elements such as corn, wheat, jute and sawdust. The properties of bioplastic are the same as traditional plastic. 
Bioplastic is bendable, can extend from its natural size, imitate different shapes, and most importantly, decomposable. The resources for bioplastics are also common. 
 So, bioplastics can be the solution to the ever-present plastic problem. Fibers from plants such as juts and hemp are becoming popular for container production. Many countries have spent millions of dollars on the R&D of finding the replacement of regular plastics. We can hope we will see far more options in the future. 
Examples of Biodegradable Packaging
The problem of unsustainable packaging has already become an uprising problem. This problem becomes so widespread that companies small and big are now changing their strategy towards the regular packaging process.
Do you know the story of peanut? Peanut is a small sea turtle that was permanently physically deformed by a 6-pack ring. This incident grabbed the attention of thousands of manufacturing brands. It showed that even a short undegradable material could be so harmful to nature.
So, here are a few examples of brilliant packaging ideas that were adopted by famous brands.
PUMA- Little Cleaver Bag 
PUMA is famous for its stylish packaging over their products. But, shoe boxes can produce millions of tons of waste. Keeping this in mind, the designer brand PUMA and Fuseproject developed sustainable shoe packaging in 2010.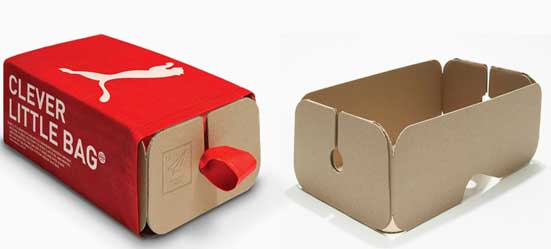 This box was able to reduce cardboard usage by 65% and carbon emissions by 10,000 tons. This box also comes with a small tote that is reusable and recyclable.
PUMA states that this creative little packaging can save up to 8500 tons of paper, 20 million megajoules of power, 1 million liters of combustible fuel, and 1 million liters of liquid each year.
2. Nut Creative- Wine Box 
Nut Creative is a Spanish brand that makes transportable wine boxes that are free of plastic. The best part is, it is bendable to a certain point and has a small handle to carry it with comfort. You can take your wine anywhere. The bag is also medium-sized and carries other stuff besides a wine bottle.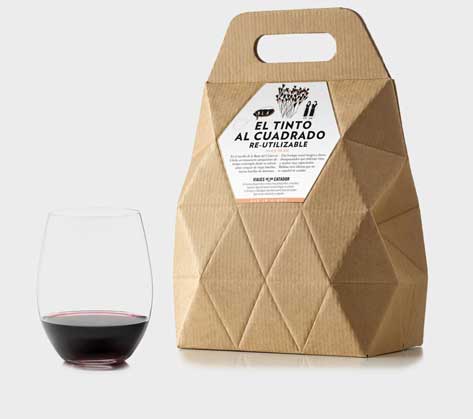 Later, when not using the bag, it can be rebuilt as a toy. For these reasons, Nut Creative's wine box is a sustainable packaging case for multiple-use.
3. Joann Arello- Bagless Packaging
Joan Arello is the senior art director at Glynndevins, an advertising agency. Her Chinese bagless take-out packaging was featured as the best innovative packaging idea.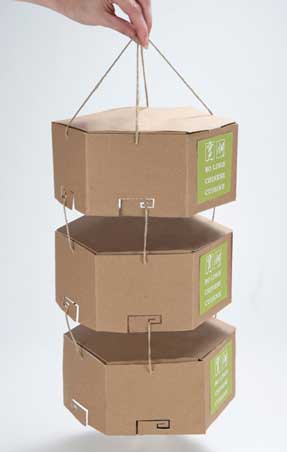 The packaging is pretty simple: 3 cardboard boxes are attached to one string of rope. This plastic carrier can element non-degradable plastic bags and styrofoam-based food carriers. This design was used by Indeed, which resulted in fewer plastic wastage over the years.
4.Ecologic- Seed Phytonutrient's Paper Bottles
Usually, cosmetic products come in plastic containers and are non-degradable. Seed Phytonutrient and Ecologic came up with a fantastic waterproof paper bottle idea. The bottle was waterproof, recyclable, and compostable. The resources to make these bottles were 100% post-consumer recycled paper. To hold together the bottle, manufacturers used interlocking grooves instead of glue.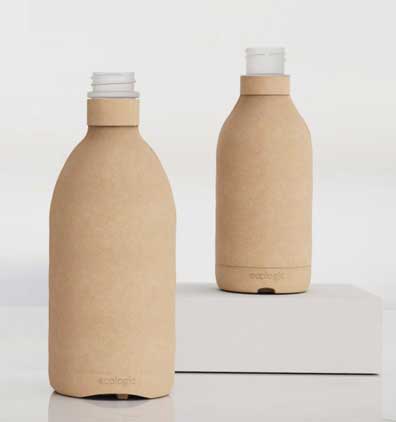 The only drawback is, manufacturers used a thin layer of the plastic lining inside the bottle. But, the plastic lining is food graded and consumable.
Is Biodegradable

Packaging

Eco Friendly?
Natural elements will eventually end one day. But, this expiration is just a transformation of energy. These elements can dissolve, finish, and evaporate. 
Some materials, such as plastic, can take years to degrade, which makes them super harmful to nature. They may be biodegradable, but the time these materials take to degrade doesn't justify their biodegradability. 
But, other biodegradable elements can degrade quicker and create less impact on the environment. So, we can assume biodegradable is eco-friendly to a certain point, and this eco-friendliness will depend on the speed of the breaking process. 
What are the Existing Environmental Laws for Packaging or Using Plastic in the USA?
America always has been using governmental laws of composition and disturbing plastic. These laws are stated by the Fair Packaging Labeling Act (FPLA) of the United States,
Regulation 1:
A misleading container can assert a food product to be misbranded (prevention from being distributed). The brand will not be able to produce or sell a product that may have an inadequate container.
Regulation 2:
The container has to have these requirements for approbation,
Identity of the commodity.
Name and place of the business.
Quality and used ingredients.
Safe container condition.
Regulation 3:
The packaging is considered an indirect food additive that has to be used only under good manufacturing practice.
Green packaging is enabling companies to deliver more products than in the past few years. This new type of packaging can change the new era of online businesses
E-commerce sales will be doubled in the next decade for sustainable packaging.
Startup companies can use fewer resources for their business.
Sustainable packaging can influence customers to purchase more online.
This packaging can ensure thousands of reusable materials.
Biodegradable packaging is possible through simple technology.
Top Biodegradable Packaging Based e-Commerce Company :
You will not believe that many brands have already started working on green packaging, and many brands have found the solution to this mega problem.
Amazon

Alibaba

eBay

Rakuten 
Amazon
Most of the packaging materials that are used by Amazon are recyclable. But a consumer can request Amazon for minimal plastic packaging. To ensure minimal waste on the packaging, Amazon has taken some steps for its green-minded consumers. The consumers can send an email to Amazon Customer Service and ask for minimal plastic packaging for their products. Amazon generally replies via email within a day to ensure minimal plastic packaging with a note.
Amazon has the Frustration-Free Packaging Program for its green-minded consumers, where packages are made of curbside-recyclable materials. They have another program for fragile items, which is called Ships in Own Container. For fragile product packaging Amazon uses cushioning materials to prevent damages. But some products are too small to deliver in their own container. For these types of products, Amazon has Prep-Free Packaging.  To deliver small products, Amazon avoids bubble wrap or bagging. These products are shipped via Amazon over the box.
Alibaba
Like other E-Commerce companies, Alibaba took steps for its green-packaging programs, which include hybrid and electric delivery vehicles, biodegradable packaging materials, and tape-free boxes. But recently, Ali Baba has been criticized by the environmentalists for their green-packaging initiative. They were using so-called green-packaging materials which are biodegraded under specific conditions. So, L'Oreal and Alibaba have taken a new initiative together for their green-packaging program.
Rakuten
Rakuten has taken different types of initiatives for its green-packaging. For their consumers, Rakuten has buildup Rakuten Boxes and 'Hako Post' lockers in various convenience stores, post offices, and other locations. From those locations, the consumers will be able to pick up their packages.
eBay
eBay is another worldwide e-commerce company that promotes green packaging as a way to the green lifestyle. In 2010, the company brought out a new packaging box that is entirely eco-friendly and easy to deal with. In October, in that year, it supplied 1,00,000 pieces of boxes to pack different products to deliver. This specific kind of box is special in many ways. Each of the boxes can be used five times and isn't harmful to the climate in any way. Every element used here is bio-degradable and can be performed easily.
The Impact of Biodegradable Packaging
Recyclable packaging has an enormous positive impact on nature. It has so many benefits,
The waste of biodegradable packaging waste does not leave any massive carbon footprint.
Sustainable packaging waste and used materials improve natural soil fertilization.
Materials used in this packaging process do not modify any existing natural balance.
Issues That Affect Some Biodegradable Packaging Solutions
Not all biodegradable packaging is possible, and some never even see the light,
Durable plastic qualities, making it hard for business owners to change into a sustainable packaging process.
Consumers are not aware of this problem.
Biodegradable materials will not be able to replicate all the properties of plastic.
Is Biodegradable Packaging Expensive?
Some biodegradable alternative solutions may seem expensive, but commonly almost all types of biodegradable solutions are not that much expensive. We can take biodegradable toad bags as an example. These bags need less material to be made and thinner than regular plastic bags.
Moreover, some biodegradable packaging processes use less machinery to start and produce. Used biodegradable materials such as beeswax, degradable plastic, and plant pesticides can be more expensive than regular plastic.
But for the long-term implications for a trivial negative impact on nature, the cost is fewer in perspective.
Final Verdict Of Biodegradable Packaging
Right now, our planet is in the blink of collapse. All the recent years of plastic pollution has increased carbon emissions by 7%, which is 2.4 billion tons. Scientists predict that continuous industrialization will increase carbon emissions every year. But, biodegradable packaging may slow down this process to save the planet.
If this continues, one day, our planet will be inhabitable. So, carbon emissions have become an avenger level of threat in the present time.
But, you can be that superhero who can save this planet from global extinction. All you have to do is choose a toad bag over a plastic bag.