Jute out the polyethylene!!! Isn't it sound interesting? Yes, Sonali bag is the breakthrough!
Bangladeshi Scientist Invents Bioplastic jute poly bag Made From Jute!!
In an age where plastic and artificial products are rampant in everyday use, scientists and modern-day innovators have been on edge trying to find an alternative. While developed nations have spent millions of dollars in research and formulation of such a material, a revolutionary finding in Bangladesh has taken the world by storm.
The Sonali bags- bags made off of jute polymers, are 100 percent biodegradable and capable of your everyday polyethylene bags for a more eco-friendly and responsible lifestyle.
The bioplastic jute bags are entirely recyclable. After buried in soil, within three months, it started the decomposition process.
Yes! You read it right. Shopping plastic bags made off of Jute.
Let's dive deeper into this surprising discovery- from finding out how it came into being and the possibilities of eco-friendly, Biodegradable green packaging, and the challenges this innovation faces.
Bioplastic jute poly bag- The Plastic Bag that Decomposes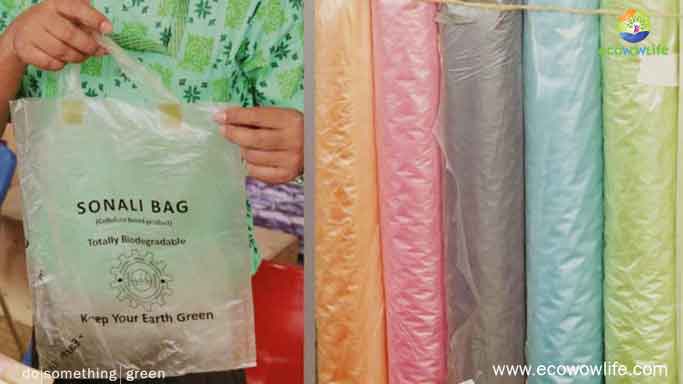 In this era of sustainable development and green technology, why should even the smallest things in life lag behind? We already have pioneers leading the concept of making every part of our lives eco-friendly.
If we want to lead an eco-friendly life, we need to cover every small aspect, from dress to even our bags.  Because everything is interrelated, would you spend 100 dollars on healthy food and then save 1 dollar by not going for a biodegradable plastic bag?
WAIT?
What? Biodegradable and Plastic?
Yes, you read it right. Every minute, around one million artificial bags are being used the world over, and in Europe, these bags are created 3.4 million tons in a year. Everyday European use around 500 plastic bags for a year that takes 100s of years to decay and defiles the earth and debilitating many living organisms.
Also, the circumstance is no better at home. Regardless of getting banned in 2002, polythene has figured out how to stay in the Bangladeshi markets as makers, wholesalers, providers, and buyers keep utilizing polythene bags aimlessly. While the administration offices guarantee the supported use originates from an absence of awareness and choices, specialists guarantee the genuine explanation is an absence of the boycott's requirement.
Well, a fantastic option has shown up, and it has been created in no created country; however, here in our Bangladesh. Sonali bags are a biodegradable bioplastic option compared to plastic bags, especially polythene bags, produced in Bangladesh by Dr. Mubarak Ahmad Khan. Bangladeshi researcher-developed jute poly bag employing jute cellulose that is bio-degradable and bio-plastic, which is an alternative for the traditional poly bag. It will play a substantial role in the ecosystem, air, soil, and sea contamination and the chance to preserve the goodwill of Bangladeshi Jute in the international market.
Significance of Bioplastic jute poly bag (Sonali Bags)
The waste generated from polyethylene bags and products because of inconsiderate practice and careless disposal of waste has become a significant ecological and health risk. The artificial recycling industry in Bangladesh consists of only 200 companies claiming to be collecting and recycling about 70% of the plastic waste created in the country.
Unluckily the remaining 30% still sums to about 17,000 tonnes per annum. A majority of this waste gets trapped in the sewers of the major cities. Stuck in the pipes and drains, especially of capital Dhaka and the second-largest city Chittagong, this plastic waste has caused the drainage systems to clog repeatedly.
UN-Habitat states that Dhaka is the world's most crowded city, with 44,500 people active in each square kilometer. More are added every day, specifically from coastal areas, as people are forced out of their homes due to sea-level rise and increased salinity intrusion, concerns of climate change.
This is where comparably, the effectiveness of Sonali bags and their biodegradable properties genuinely shine.
Dr. Mubarak Ahmad Khan, currently acting as the Chief Scientific Officer at Bangladesh Jute Mills Corporation, took six years to accomplish the process. His challenging work has opened fresh out of the box new roads for Jute, also known as the golden fiber. Despite being biodegradable, the polymer is water and air resistant.
Simultaneously, its texture is nearly equivalent to polythene bags. Specialists said across-the-board advertising and accessibility of Sonali Bag will help lessen the utilization of hurtful polythene bags, advance environment-friendly packaging, definitely cut import of biodegradable bags and polythene bags, and bring in huge foreign currency from exports.
Likewise, the administration will urge private business visionaries to create jute bags to fulfill the immense need at home and abroad. Jute poly bag is an ingenious just as a value-added item that assists with gaining market share.
Economies of scale help through large scale manufacturing and limiting overhead expenses to expand benefit. Then again, information on exporting diversified jute products (JDP) in the global market will assist with keeping up supply chain proficiency. In conclusion, the accessible crude materials underway popular will likewise assist with increasing monetary scale in items and activities lastly to gain market share of the overall industry.
Polyethylene bags are the most well-known plastic bags that are produced using unrefined petroleum and gaseous petrol. Both oil and gas are nonrenewable sources, implying that they are in limited stock. Despite what might be expected, Jute is natural and renewable as needed to ensure fresh air and environment. 
There are a couple of options of plastic poly bags that is, Jute, cotton, canvas, non-woven, and bamboo bags, which are a more secure option in contrast to plastic bags, yet all do not comfort as a plastic bag being used for bringing fluids and wrapping wet foods. Be that as it may, Bangladeshi researchers have found a polybag substitute and similar quality in ideal time. The promising news is that scientists had already been able to produce bioplastic jute poly bag from algae have a substantially positive impact, rather than corn uses to create bio-plastic.
Who Invent The Bioplastic Jute Poly Bag "Sonali Bag"?? – The Bangladeshi mind behind it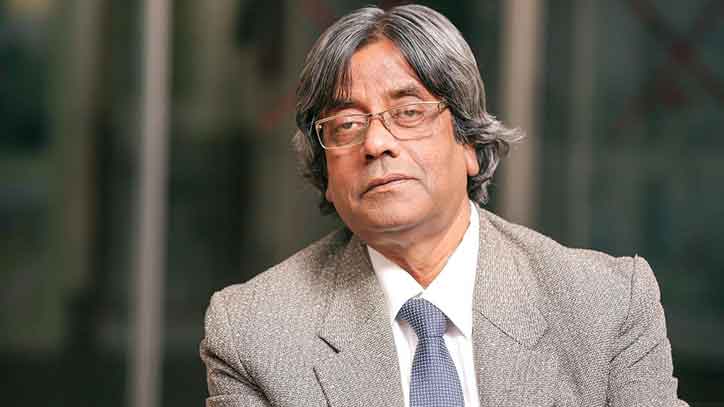 Dr. Mubarak Ahmad Khan is a Bangladeshi researcher who has been researching since 1990 to make and use Jute's business uses and potential outcomes. As indicated by the science-based research database, Scopus, he is viewed as the leading researcher in Jute's study around the world.
He is now filling in as the Chief Biological Advisor of Bangladesh Jute Mills Corporation (BJMC). Among his numerous disclosures are Sonali bag, jutin, head protectors, and tiles, all of which are produced using Jute.
Dr. Mubarak Ahmad Khan developed Jute's made composite in 2009, which is known as Jutin. He used to blend Jute in with polymer for the creation of jutin. In 2016, he made non-hazardous proteins as an option in contrast to destructive formalin for the human body. As of late, he has made an environment-friendly Sonali bag from Jute, which is currently being industrially made. He likewise developed various basic things with Jute
The Jute Polymer Is the Main Component of Sonali bag :
The bag is made of off Jute polymer, and it has a comparative quality of polythene bag that is 100% eco-friendly, recyclable, and will be amalgamated with soil inside 3 – 4 months.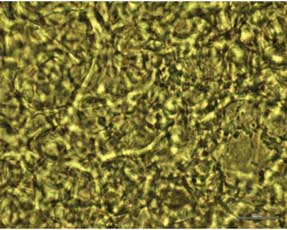 Principle compound ingredients are Jute cellulose, Synthetic polymer as a binder (biodegradable), and Cross-linker for concoction response. Jute holds about 72% – 75% cellulose, and a half – 55% could be extricated. The bag looks like a polyethylene bag but isn't. Strength is also one and a half times more than a polyethylene bag, 100% eco-friendly, sustainable, recyclable, and will be interspersed with soil within only 3-4 months where polyethylene took even 200 years. Used colors are also food grade.
Jute cellulose
Synthetic polymer as binder (biodegradable)
Cross-linker for chemical reaction
For delivering the polymer, the first cellulose is extricated from jute fiber. The cellulose experiences surface modification to prompt water dissolvability. At that point, it is mixed with a biodegradable binder and dissolved in warm water to make a sticky solution. 
At long last, the polymer arrangement is poured into a casting tray and permitted to air dry at 40 degrees Celsius and 40 percent relative moistness. The biodegradable sheets are then freed from the casting tray, and the bags are made by conventional sealing.
Challenges Ahead Of Bioplastic Jute Poly Bag "Sonali Bag"
So what's holding us back from using Sonali Bags then?
The item is yet to be industrially possible with its expense of generation at present twofold that of polythene. This outcome in a higher selling cost. It is one and a half times gradually costly to deliver jute polymer bags than polythene bags; expenses could be diminished if generation was scaled-up.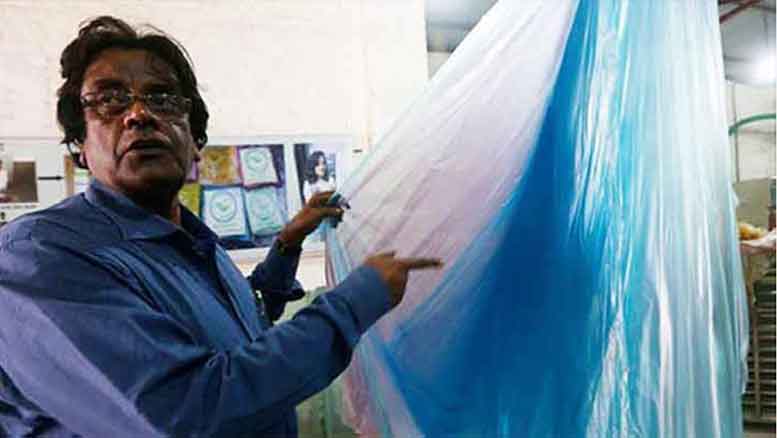 As the item is recently innovated and still in the production phase, the details of usefulness, customer acceptance, quality of the product, and final production capacities to meet demand are not yet tried. One of the immense difficulties is lacking information to gauge and figure future versatility. In the future, the research could be led on client acknowledgment and ecological viability of recently contributed poly bags and on the most proficient method to get the inclusion of SMEs in the bioplastic industry to reinforce the outright preferred position. In contrast, massive ventures and research required contrasted with the traditional plastic industry. In the ordinary plastic industry, numerous SMEs are associated with creation and advertising; however, SME's contribution is a significant test in the bioplastic industry. 
Since numerous past developments couldn't support in the market on account of the substantial expense, it is a significant test for this 'Jute Poly Bag' to keep the value sensible and plausible for the mass individuals. The designer of this bag, Dr. Mubarak Ahmad Khan, is expecting when it goes into large-scale manufacturing, the cost will be within reach of individuals. The principle crude material that implies Jute is accessible in Bangladesh, and that is why he trusts that the price will be sensible. The price will rely upon factors like-
•           Availability and cost of crude materials
•           Cost of apparatuses
•           Process cost
•           Bank advance and different offices from govt. and so on.
Possibilities Ahead Of Sonali Bag:
Now that we have the technicalities covered let's look at the immense opportunities ahead for Sonali bags.
The Strength of Bangladesh, one of the utmost Jute producing countries globally, farmers are well skilled in producing high-quality Jute. The newly created jute poly bag is a value-added product that will help increase the global market share. We also found that the core players are PLA producing countries, but making PLA (Ploy lactide acid, Corn starch) is costly.
That's why many start-up companies were not capable of sustaining in the long run in the past. Still, some organizations are producing & marketing worldwide by getting help from the government and environmentalists.
There are monopolistic markets for Jute poly bags and insignificant risk of a substitute and trading power of suppliers and consumers through the competitive study. That will not affect any more due to world demand and supply, which is still a far way to get equilibrium.
Bangladesh has sufficient knowledge in exporting jute & readymade garments worldwide for a long time, especially in the European Union, where she gets duty-free export opportunities mostly in all products.
Experts suggest focusing on the EU to get cost leadership in the known markets at an initial phase. Experts also suggest concentrating on the Asian market, especially in India and China through this market will be competitive in the near future due to corn starch production resources' availability.
There is forecasted that China will be a leader in Asia as well as the world market in producing corn starch. Most of the currently planned volume production facilities are being implemented in Thailand, India, and China, and over 1/3 quarters of bioplastics will be produced in Asia by 2022. Branding and marketing through international media and more participation in international trade fair demonstrate the benefits and usefulness.
Final thought of Bioplastic jute poly bag "sonali bag"
This is an astounding achievement, and the possibilities of its environmental impact and its economic impact are endless. Bangladesh truly has the opportunity to capitalize on this invention and incentivize the use of Sonali bags and while marketing an eco-friendly product.
The global packaging industry is an industry the concerned authorities might consider looking at. Bangladesh was one of the pioneer nations to boycott the utilization of plastic and polythene bags, in 2002, with an end goal to stop them from gathering inland and ashore. However, the boycott has had little achievement.
Today above 60 nations – from China to France – have prohibited the bags in probably a few districts or urban areas, Mr. Khan said.
As the bans extend, over 100 Bangladeshi and worldwide firms are investigating utilizing the new jute-based shopping bags, Mr. Khan said. The bag will probably have "colossal interest far and wide," said Sabuj Hossain, Director of Dhaka-based fare firm Eco Bangla Jute Limited.
A few years from now, when you go shopping and hand you your goods in anything but the Bioplastic jute poly bag "Sonali bag", be smart. Ask for them. Apart from all the environmental and patriotic reasons, it's more substantial than the regular polyethylene bags.
Bioplastic Jute Poly Bag "Sonali Bag" is the finest example of a sustainable alternative eco-friendly consequence. In this modern era, we always welcome such kind of sustainable, earth-friendly invention. If you like this piece of article, please share it and stay tuned to our blog!!
References:
https://www.textiletoday.com.bd
https://www.researchgate.net/publication/319298055_Bangladesh_Invented_Bioplastic_Jute_Poly_Bag_and_International_Market_Potentialshttps://en.wikipedia.org/wiki/Mubarak_Ahmad_Khan
https://www.daily-sun.com/arcprint/details/381961/Jute-%E2%80%98poly-bags%E2%80%99-to-hit-market-in-2-months/2019-04-02
https://www.thedailystar.net/frontpage/forget-polythene-1559578
https://www.researchgate.net/publication/319298055_Bangladesh_Invented_Bioplastic_Jute_Poly_Bag_and_International_Market_Potentials
https://www.dhakatribune.com/bangladesh/2019/12/07/how-are-banned-polythene-bags-still-in-the-market
https://www.thethirdpole.net/en/2018/04/09/plastic-chokes-dhakas-drainage/