Big giants companies of this world like Apple, Amazon, Google, Facebook, Microsoft, Chevron, Loreal, Alibaba, Nestle, and many others are ruling the global business from different platforms.
However, are they just doing business and polluting the environment? 
No. 
All of these giants are putting efforts to curb their greenhouse gas emissions and moving towards sustainability in many ways. 
In the recent era, we are observing big companies are now more conscious about their corporate social responsibility(CSR). They are running a lot of social and environmentally sustainable project, almost all the big brands are going green to tackling climate change.
Let's find out How are big companies Going Green?
In this write up you get enough ideas-
How Tech Giants Support Renewable Energy?

Top list of Environmentally Friendly Companies and their sustainable resolution.

Brief of their ongoing sustainable project and its impact along with some cool data and stats.

Google, Apple, Amazon, Facebook who win the race towards 100% renewable energy target for sustainable clean energy goal?

More big Companies Are Committed to going green:Is It Enough? 
Let's peel off the skin of those issues-
Get introduced to these big companies and their green initiatives that are taking place worldwide!
Share your ideas if you have more information and let us know if you liked reading. Happy reading!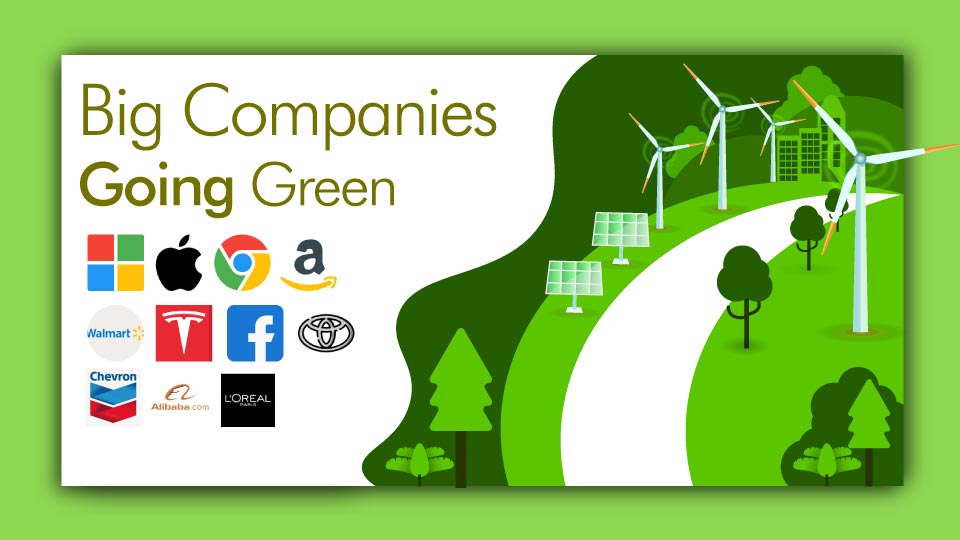 World's Biggest Companies Support Clean Renewable Energy :
According to the International Energy Agency (IEA) referred that 40% of the future energy sector will be run on 100% renewable energy by 2040. 
We all know how every nation is investing in renewables to solve the crisis of fossil fuels. 
Sustainability, being the umbrella goal, has renewable energy as the only reliable option. Not only governmental and non-governmental organizations, corporate companies and factories are shifting towards eco-friendly projects. 
There is no doubt that this infiltration of environmental ethics and pressure came from bigger companies. 
The world's biggest companies are going green in many ways. These companies have a huge amount of money to invest, and they are choosing green initiatives to tackle climate change as umbrella organizations. Multinational companies of different platforms like social media service, automotive and electric energy companies, cosmetics, etc. are investing in clean energy to run their companies as well as run other green projects around the world to generate clean energy. 
Let us know some of the green initiatives of the biggest companies in this world and how they are impacting the world.
Big companies are going green to tackling climate change:
What are the big companies? That is big in size? Or that has luxurious office space? 
Not really.
Or maybe the companies you have heard about? 
Yes, you're almost there. 
World's biggest companies are those companies that have the highest amount of revenues worldwide with the highest influence on the market compared to other companies. In simple words, the rich companies! There are rankings of these companies. It does not depend on if we consider them big enough or not. Forbes Global 2000 publishes tally or list of big companies around the world. Forbes released its first list in 2003 and published its 17th annual ranking in May 2019. Rankings are also done by market capitalization: Statista and Fortune global 500.
Since they are the biggest companies with so much money, they have enough money to invest in different projects. The good news is that the biggest companies are choosing clean energy to run the companies and also supporting green projects around the globe. Let us have a look at these big companies ruling the world economy!
Let's meet the top 12 Big companies which are going green :
#1. Google.
#2. Apple.
#3. Amazon.
#4. Facebook.
#5. Microsoft.
#6. Alibaba.
#7. Tesla. 
#8. Toyota.
#9. Nestle.
#10. Walmart.
#11. Chevron.
#12. Loreal.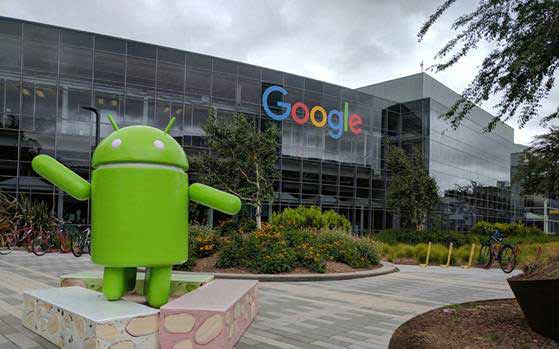 1. Key Green initiatives by Google –
With the massive revenue of $40.3 million, Google undoubtedly stands as one of the most successful companies. The major revenues come from advertising from Google sites and networks. Among other revenues, digital content platforms, apps sold from Google Playstore, Chromecast devices, and smartphones contribute a lot to Google revenue. The corporate headquarter called 'Googleplex' is located at Mountain View, California, United States. 
#

Google renewable energy goal: Hugely invest in Solar and wind energy projects –
Google's earlier investment focused on wind energy. At present, Google is making new investments in the U.S mostly on solar energy. 
In Chile, Google is investing in hybrid solar and wind ventures to power data centers. Present agreements of renewable energy bring Google at 52 renewable energy deals and 5500 megawatts(MW) of power. Google plans to invest $150 million on renewable energy projects.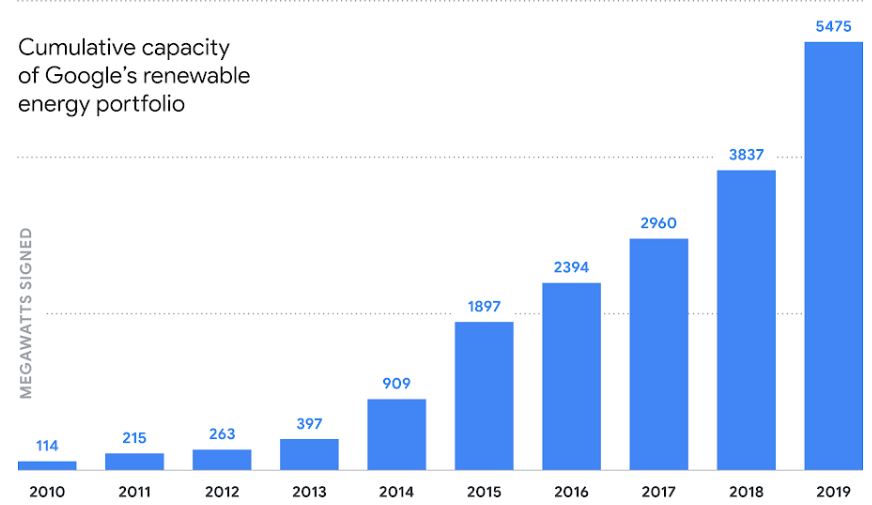 The CEO of google Mr. Sundar Pichai recently vowed that google is already made huge purchases in the renewable sector to achieve their mammoth clean energy goal. 
He said on Sep 19, 2019, at google blog – Today we're marching towards another giant step by making the most significant corporate purchase of renewable energy in history. 
This purchase is made up of a 1,600-megawatt (MW) package of agreements and includes 18 new energy deals. 
Collectively, these deals will increase Google's worldwide portfolio of wind and solar agreements by more than 40 percent, to 5,500 MW—equivalent to the capacity of a million solar rooftops. 
Once all these projects show in online, google carbon-free energy portfolios will able to produce additional electricity than areas like Washington D.C. or entire countries like Uruguay or Lithuania use every year.
#Google Use Recycled materials for hardware products: This is one of the most significant environmentally friendly steps from Google-

Under 'All of its made by Google' movement, Google pledges to make its hardware products from recycled materials by 2022. The hardware products that are currently included in the plan Pixel books, Nest, Google Home speakers, accessories like phone cases and charging stands, and Pixel phones. 
# Google start to Recycling partnership program
Although limited to the U.S, this program is instrumental in reducing waste management risks and recycling of devices. Google offers a shipping label for customers to send them unused devices that are no longer needed. 
#In recent Google start to Carbon neutral shipments to minimize carbon emissions-
Google plans for a carbon-neutral shipment by 2020. The team reduced 40% emissions when they shifted from air shipments to cargo.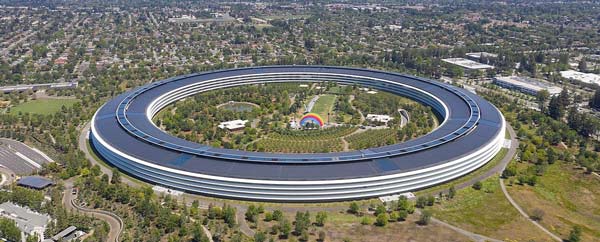 Apple : Amazing Environmental Initiatives by Apple –
Flexing with your iPhone? Let us know something about the company that brought you this. Apple Inc. is a hardware and software company issuing the latest models of technological devices. 
Apple.Inc was founded by Steve Jobs, Stephen.G.Wozniak, and Robert Wayne and was the first company to make a personalized computer. 
The headquarter of Appl Inc. is in California. A massive market cap worth $961.3 billion belongs to this company. Apple Inc. ranks 6th in the Forbes Global 2000 list. 
Apple not only just leading the tech industry but also take a lot of green initiative to fight against global warming. Here below some great eco-friendly initiative from Apple, let's explore – 
a) Apple Suppliers Clean Energy Initiative: Apple support Clean energy-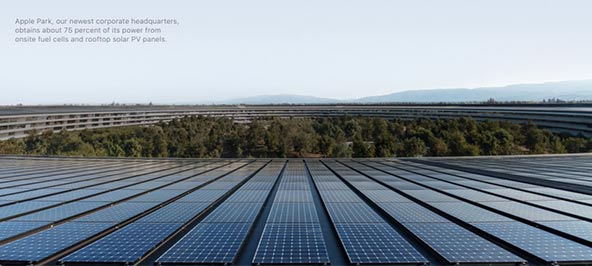 44 suppliers have joined Apple in the clean energy initiative. This initiative holds suppliers accountable for environmental standards, as followed by Apple. The initiative targets to bring 4 gigawatts of renewable energy to its supply chain by 2020. An additional one gigawatt beyond this is also expected. Apple has a long way to go to cover all suppliers worldwide.
b) Apple Environmental Sustainability Report mission to 'Change the World' –
Apple issued its environmental sustainability report in 2019, which claims Apple has a mission to 'change the world' in terms of environmental initiatives from Apple.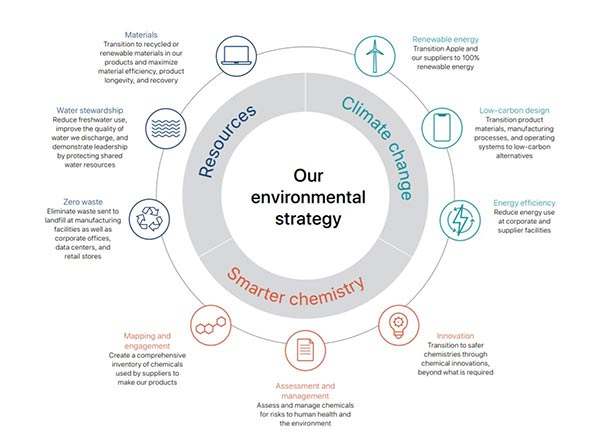 With this goal, Apple has already invested in multiple renewable energy projects and reached 100% renewable energy targets in 43 countries around the globe. Although all in-house operations are running on renewables, third party suppliers need to be focused on generating power from renewables.
c) Apple was successfully able to lower carbon emissions 35% throughout some sustainable project- 
 Apple successfully reduced its carbon emissions by 35% than in 2015. This fact was claimed in The Environmental Responsibility Report of 2019. Apple published a chart that shows the strategy behind lowering emissions since 2011.
In the next section, I want to introduce one of the leading big company "Amazon" and there ongoing sustainable activity. Lets tune with this write-up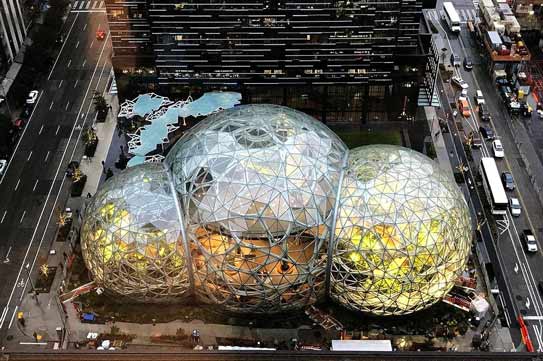 Amazon: 
At present, the world's biggest online retailer and promising cloud service provider are Amazon. It started its journey as Cadavra in 1994 and changed to Amazon in 1995. Amazon reaches $959 billion by ranking 3rd in terms of market capitalization with major revenues from customer services. Amazon.com has multiple headquarters. Customer service centers and software development centers in different locations of the world.
Some Environmental Initiatives from Amazon towards tackling climate change :
In September 2019, Amazon launched a series of initiatives towards tackling climate change. 
The Chief Executive and Founder of Amazon, Jeff Bezos, emphasized the potential of other companies to go green to meet the Paris Agreement 10 years early if Amazon delivering 10 billion items and having such a vast infrastructure can do.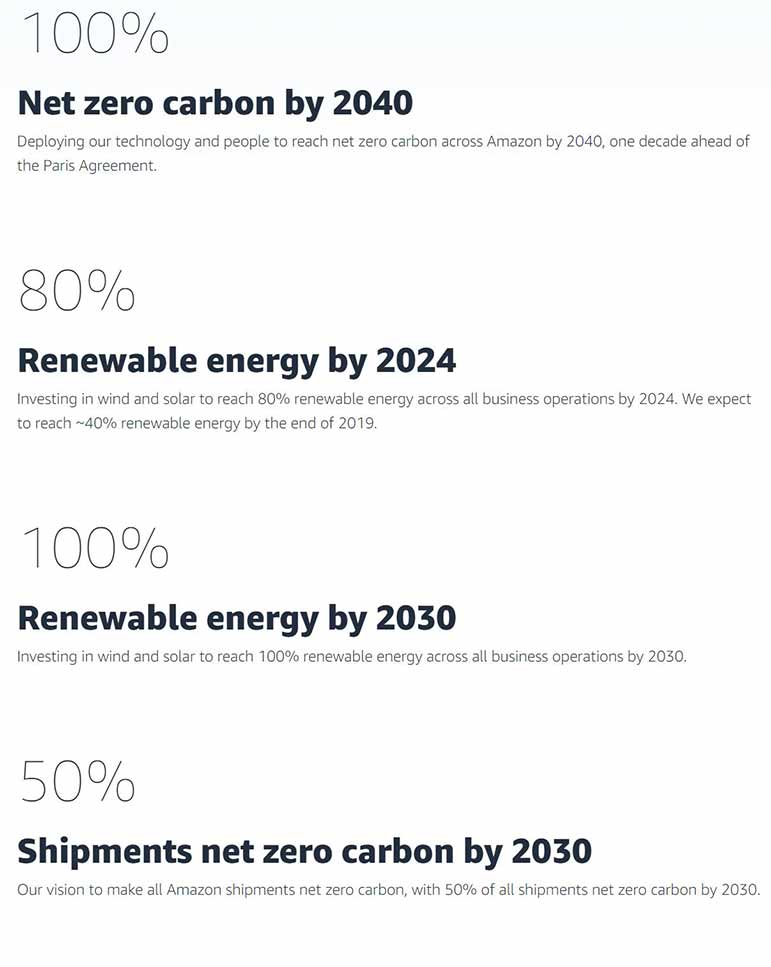 Amazon has a goal to adopt 40% renewables by 2024 and 100% by 2030. 
It also commits to net-zero carbon emissions by 2040. With this goal, Amazon has impressive green initiatives in the process. Let's go through them in brief:
Amazon Renewable Energy Goal:
#Amazon Solar energy projects – Amazon aiming to generate 500,997 MWh energy per year from solar power:
Amazon announces two solar projects to power its operations in North Carolina and Virginia. The company expects to generate 500,997 mwh per year. The projects are expected to start in 2021. 
Amazon is also deploying rooftop solar panel systems in London, which will generate electricity as much as 4500 homes do. This will reduce carbon footprint by 6000 metric tons of CO2 per year.
#Amazon Wind energy projects-Amazon able to harness enough energy from wind which can power up 90,000 U.S Homes for a year :
Amazon's largest wind energy project is located in Texas. It can generate 253W of wind energy annually. This amount of wind energy s enough to power 90,000 U.S homes for a year.
#Amazon endeavoring to buy 100,000 EV(electric vehicles) for achieving net-zero carbon emissions :
Amazon committed to buying 100,000 electric vehicles to implement the goal of net-zero carbon emissions. 
It is expected that by 2021, the first delivery electric vehicles will be on roads. Amazon plans to deploy 10,000 electric vehicles for shipment in 2022 and 100,000 by 2030. 
Rivian, a rival of Tesla, has already launched an electronic pickup and SUV. Rivian plans to join all delivery services for better customer experience. 
Although it is not sure news how much Amazon will invest in Rivian for the electric vehicles, but the investment is led by Amazon and is around a $770 million investment. 
Amazon calls out other companies to join the net-zero carbon emission movement to meet the Paris Pledge. 
Amazon eyeing $10 million investment in recycling Program: 
Amazon announced a $10 million investment in a municipal recycling program in North America. The reason is clear why Amazon is interested in recycling programs. 
Amazon has the largest retail sector in North America, particularly in the U.S, where vast amounts of cardboard's are shipped every day. In that region, thousands of Americans do not have access to curbside recycling pickup. This is why a massive amount of cardboard boxes and reusable materials go wasted.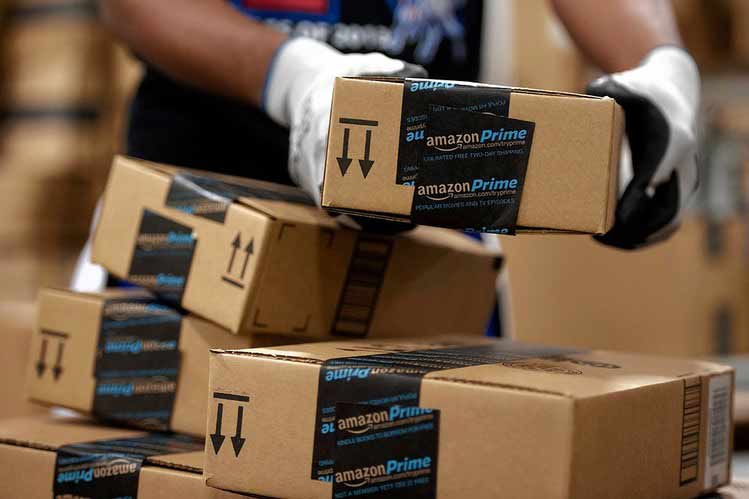 So, by investing in recycling programs through the Closed Loop Fund, Amazon is developing the recycling infrastructures of the city as well as promoting re-use of materials. This will increase the efficiency of resources. 
Sustainability Reporting Initiative From Amazon :
To ensure transparency, Amazon opened a new website to monitor and track the company's progress towards Paris Pledge. The company urges other companies to join in with this non-binding agreement to tackle climate change. Moreover, Amazon built a scientific model to map its carbon footprint.
In next section we will discuss some key green initiatives of Facebook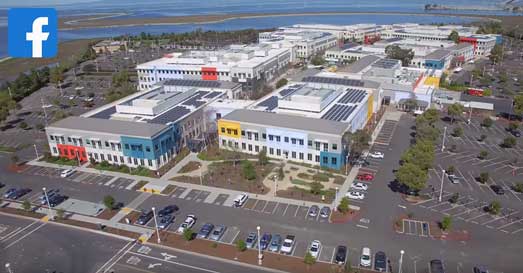 Facebook is also going green- Here some key green initiatives of Facebook-
Very few people in the world do not have a Facebook profile. The success of this company need not introduce. With a revenue of $550 billion, Facebook ranks 5th in terms of market capitalization. 
Facebook services also include Instagram, Whatsapp, Messenger. The headquarter of Facebook is at MenloPark, California, United States.
As we all know, Facebook is the fastest growing social network site around the globe Sustainable workplaces. At present Facebook hugely investing their money and time to ensure for achieving their sustainable goal. Here below some excellent eco-friendly steps from Facebook-
They create sustainable workplaces for their employees around the world, prioritizing materials and solutions that minimize the impact on the environment and advance employee well being.

They are striving to design and operate high-performance buildings that are healthy and sustainable and inspire collaboration, creativity, and productivity. 

They use building automation and feedback to optimize their spaces and leverage natural daylight to reduce energy usage.

They use rigorous sustainable design standards such as LEED®, Green Star and BREEAM® (Building Research Establishment Environmental Assessment Method) to confirm their offices incorporate top-class design concepts and construction practices that help to reduce overall energy, water, and material consumption. 

At their Bay Area headquarters, they have achieved LEED® Platinum the highest level of certification – and many of their other facilities have already achieved sustainable design certifications globally. 

Facebook committed to reducing its greenhouse gas footprint by 75% and reaching 100% renewable energy in 2020; they recognize the urgency of climate change.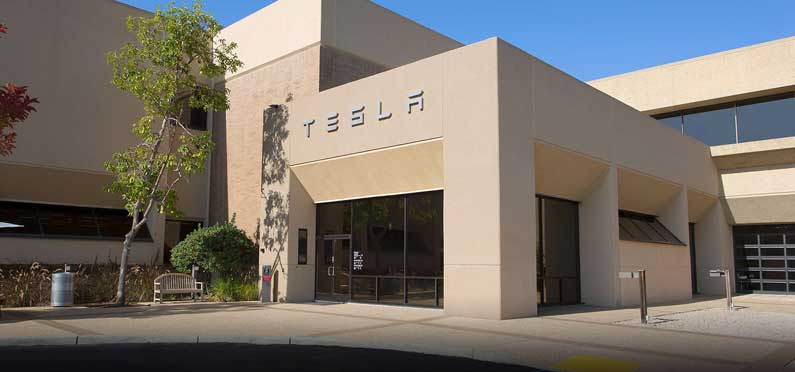 Tesl

a and its Sustainable Goal :
Tesla.Inc was formerly known as Tesla Motors. This company, from the very beginning, is thriving by producing, trading electric cars and electric storage products. Thus, it has two segments: Automotive and Energy generation and storage. The revenue reached $24.3 K billion in 2019. 
The headquarter of Tesla is located at Palo Alto, California, United States.
In the recent era, Tesla is more focused to achieve its sustainable goal. Tesla comes up with amazing environment-friendly initiatives and runs a lot of green projects, here below I discuss a few of them-
# Re-examining sustainability strategy by Tesla- 
Tesla promotes ensuring sustainability from the grassroots of the whole system rather than only manufacturing. This is why Tesla has greenways to implement key programs, standards, and guidance across global operations safely. Generating sustainability culture within the whole company is the key to safe operations. 
# Tesla Purchasing SolarCity Corp to achieve its renewable energy goal-
Tesla got the approval to purchase SolarCity Corp which is the largest installer and manufacturer of solar panels in 2017. 
Solar Corp is the whole new subsidiary of Tesla. Tesla has been taking orders for solar roof panels. Now, customers can buy solar panels, Power pack electricity storage units, and Powerwall as well as choose electric cars from the latest range of Tesla. 
Tesla's rooftop solar panels are cheaper than traditional rooftops which also connect to Power wall to power your homes with a sustainable energy system. So, you get luxury but in a green way! 
# Tesla – Manufacturing green
Currently, Tesla manufactures vehicles in California and battery in Nevada. The California grid is very clean with 70% from non-fossil fuel. The Nevada Gigafactory is on the way to be powered by 70 MW solar array and on-site recycling.
Key Green Initiatives by Walmart –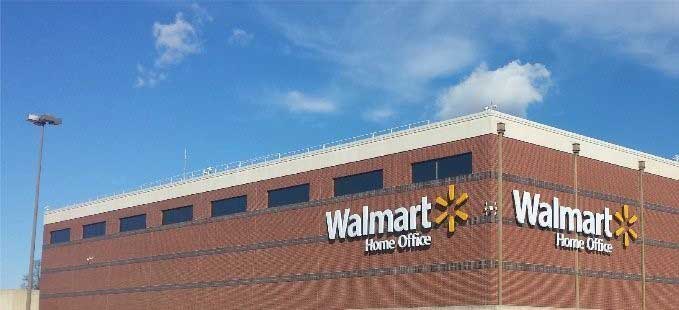 Walmart Inc. ranks 1 among the top 10 in the Fortune Global 500 list. It also secured different top positions 11 other rankings in 2019. There are three business segments: Walmart U.S, Walmart International, Sam's Club. Is said combined, this company engages in retail, wholesale, electronics, apparel store, digital retail, supermarkets, super centers, business operation support services, and the list goes on. The company earns revenue of 514.4 billion USD. The headquarter of Walmart is located at Bentonville, Arkansas, United States.
# Sustainable Agricultural produce: Walmart promotes sustainable agriculture
Walmart promotes sustainable agriculture. So, it works with suppliers who optimize agricultural resources and report through the Sustainability Index. This aligns with the World Economic Forum's new vision for agriculture. Walmart works with growers who adopt improved agricultural practices. 
# Walmart produce sustainable dairy and meat
Walmart is working with the U.S round table for sustainable beef to set comprehensive metrics for the beef supply chain. The metrics help to set priority indicators for animal well being and GHG emissions. Also, Walmart is working with Nature Conservancy for a dedicated beef supply and plans to cover 15 percent of the industry by 2023. Walmart also plans to reduce GHG emissions in the dairy industry by 25% by 2020. 
# Walmart keep eye on Sustainable Seafood sourcing
100% of Walmart and Sam's Club farmed, fresh and frozen, and wild seafood is sourced according to the Walmart Seafood Policy. Walmart works in UK, Canada, the U.S, Mexico, Brazil, and Central America in sustainable seafood. The suppliers are encouraged to work towards sustainable certification or an Aquaculture Improvement Project. 
# Walmart launch green finance initiative with HSBC- 
Walmart and HSBC have teamed up to incentivize suppliers of Walmart to opt for sustainable practices. HSBC will offer lucrative financial packages to suppliers of Walmart who will be able to demonstrate plans to cut down greenhouse gas emissions. This initiative will increase productivity and also lower the cost of suppliers, which is a win-win for environmental protection.
Microsoft-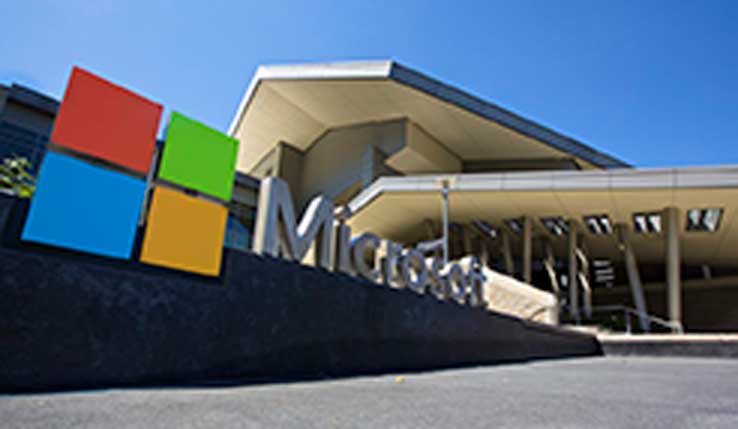 Microsoft Corporation is a technology company, securing top positions in nineteen different rankings in the year 2019 The revenues topped $1 trillion, making it the third U.S Company to cross this milestone. 
Microsoft is a leading developer of personalized computer software systems and applications. 
It also licenses and supports software products. The company engages in developing gaming and entertainment consoles, other intelligent devices, and accessories that relate to cloud-based offerings. 
It also has its range of tablet computers, e-mail services, portable media players, published books, and multimedia titles. The founder of this American technology company is Bill Gates. The headquarters is located at Redmond, Washington, United States.
Key Green Initiatives by Microsoft-
# Cutting carbon emissions
Microsoft increased its carbon tax to $15 per metric ton, which is almost double the current rate. This will pressurize the company's business division to cut off emissions up to 75%
# Clean energy project
Microsoft joined hands with Chelan PUD to generate clean energy to power Puget Sound Operations. This project will also contribute to generating carbon-free power in Washington State that will rewarded socio-economic benefits to the people of that region. 
Key Green Initiatives by Toyota-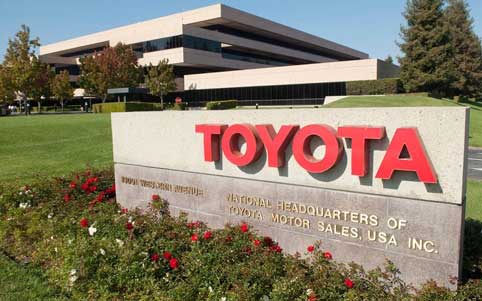 # Toyota Green initiative Campaign
Toyota Green initiative Campaign includes many tiers of activities. These activities can be separately pointed out as initiatives. However, if we summarize, this initiative combines all customers starting from the youth community. The activities contain a series of lectures by sustainability experts in high school campuses regarding how sustainability can be carried into our daily lives, facts, and told of sustainability. This initiative works to be changed in the African-American community. 
# Toyota environmental Challenge 2050
– Intending to achieve milestones in sustainability, Toyota announced this challenge in 2015. The six environmental challenges include the following points: 
– 90% reduction of C02 emissions from operating Toyota vehicles from the 2010 level by 2050
Eliminate C02 emissions from the entire vehicle lifecycle

Zero emissions from all Toyota plants worldwide through clean energy projects

Minimizing and optimizing water usage at local conditions

Avoiding the end-of-life cycle of vehicles by recycling technologies developed in japan

Nature conservation activities
Key Green Initiatives by Nestle-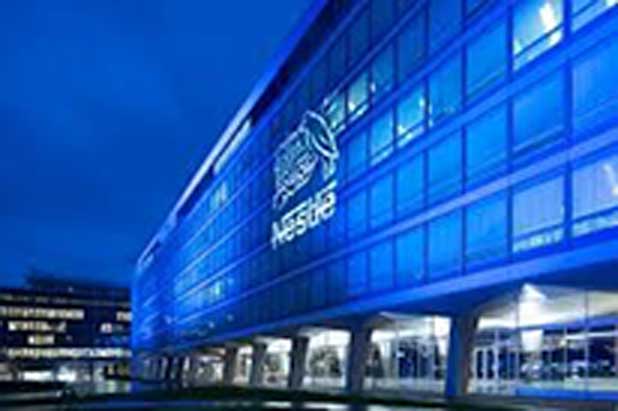 a) Application for iPhone and Android devices
-Nestle works differently in the case of labeling. 

-The company does not focus on product labeling based on the water footprint because it ignores other environmental indicators like C02 emissions. 

-This is why Nestle launched an application for iPhone and Android users to them aware of the correct ways of recycling waste packaging. 

-Nestle adopts other ways of communicating with consumers to spread environmental awareness. 

-For efficient life cycle assessment of the products, Nestle is a member of the ISO Water Footprint working Group(ISO140046: ISO/TC207/SC5/WG8), which was first convened in 2009. 
b) Extending clean energy goals further
Nestle has already achieved 10% renewable energy in powering all sites in the last toe years and 30% reduction of emissions. 

The company extended the goals to reduce up to 40% emissions by 2016 and 20% renewable energy in all sites by 2015. 

These extensions made Nestle more dedicated to tackling climate change.
c) Nestle plans to build an ecosystem of Sustainable coffee chain-
Nestle is working with distributing 220 million plantlets by 2020 for improving the sustainable coffee supply chain. 

Nestle has already achieved the milestone of 100% certified sustainable cocoa sourcing as a sustainable raw material. 
d) Nestle going for green packaging- Recyclable and reusable packaging
Nestle pledges to use 100% recyclable and reusable materials for packaging by 2025. 
Under this spotlight, three core areas are focused: to use recyclable plastics, promote the use of plastics that have better recycling rates, avoid complex combinations of packaging materials. 
Nestle is taking a collective approach to tackle plastic pollution through eco-labeling, exploring different packaging solutions with different industrial value chain partners. Get Every Bottle Back is another new initiative from nestling in this regard.
Alibaba: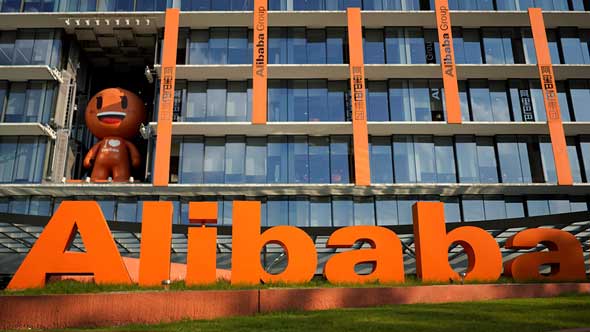 China's most successful online commerce company competes with the world's biggest companies like Facebook, Apple, Google, Microsoft, in terms of securing market cap equivalent to $615 billion. Alibaba is one of the most valuable tech companies in the world, as well as one of the most valuable public companies in China. Alibaba specializes in e-commerce, retail, internet content services, and technology. Alibaba secures 7th position in BrandZ Top 100 Most Valuable Chinese Brands by Kantar. The study valued Alibaba at $141 billion. The headquarter of Alibaba Group is located in Hangzhou, China.
#Alibaba also going green- Some environmental friendly steps by Alibaba-
a) Alibaba introduce Permanent recycling stations
Alibaba plans to set 75,000 locations as permanent recycling stations. The stations will contract express courier services to pick up used cardboard boxes and packaging. 
b) Alibaba Cloud
Similar to other cloud services, Alibaba cloud also targets to boost online purchase experience. However, Alibaba is going renewable to generate 200,000 kwt hour of energy on Single's Day itself and conservation efforts like liquid-cooled servers. 
Chevron: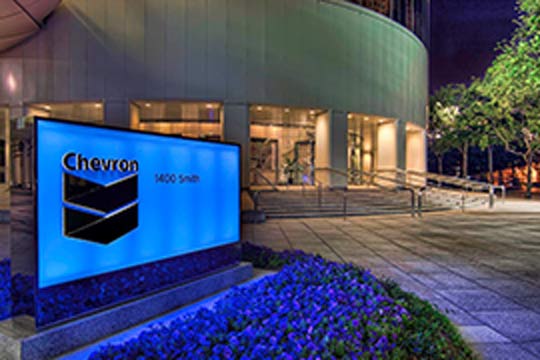 Producer and transporter of crude oil globally, Chevron operates throughout the globe.
The company is also involved in chemical and mining operations, energy services, and power generation. The revenue of this company stands at $166,399 million. The headquarter is located in San Ramon, California, United States.
Chevron going green- Some environmental friendly steps by Chevron-
a) Chevron Solar energy projects-
Chevron evaluated seven photovoltaic technologies through project Brightfield in California. This determined the potential application of solar energy in other company facilities.

 Lost Hill Oil Field of California is expected to power from solar energy. A 35 Megawatt solar energy system will power the oil field with low carbon electricity. 

Once the project is completed, 80% of energy needs in the oil field will be powered by clean energy. 

The oil field has been serving with 460 billion barrels of oil per year since 1910, which makes it important FOR Chevron. 
b) Chevron Wind energy projects- 
Chevron's Casper Wind Farm was turned into an 11-turbine. 16.5-megawatt capacity wind farm. 

This wind farm can produce electricity to power 16.500 U.S homes for a year. In 2019, Chevron signed a green power purchase agreement (PPA) to power a part of its current load from a wind farm in West Texas. 
c) Chevron Hugely Funding to reduce GHG emissions
Chevron invested around $1 billion to develop technologies in energy storage projects and carbon capture of Australia and Canada. The company established a future energy venture capital fund for this purpose. 

Chevron has joined with major international oil and gas companies to commit to curbing greenhouse gas emissions. 

The coalition is called the 'Oil and Gas Climate initiative' (OGCI). Although Chevron was reluctant at first, they finally joined this coalition and developed $1 billion through this, as mentioned above. 
 Loreal :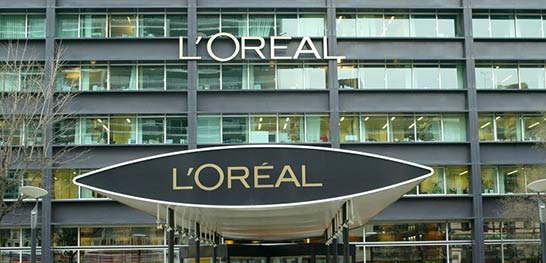 Founded in 1909, Loreal is the world's largest cosmetic company. Loreal expands its operations in 130 countries. Loreal Paris has 35 diverse international ambassador icons. Loreal ranks #1 in the Covalence EthicalQuote reputation index and #25 in Fortune 500 company. The company has a Research and innovation team of 3,885 people. 
The headquarter or Loreal is located in Clichy, France.
Loreal going green- Some environmental friendly steps by Loreal –
Lorel introduce Responsible Packaging also called eco-friendly green packaging :
Loreal takes care of its packaging based on eco-design and has been training relevant teams for long. 

It ensures lightweight packaging and certification for its packaging. The certifications are particularly from FSC® (Forest Stewardship Council) and PEFC (Pan European Forest Certification). 
Lorel achieved Sustainability Leader on CDLI :
Loreal has been ranked 'A' for its highest level performance on Climate Disclosure Leadership Index (CDLI), management of climate strategies, and carbon footprint. 

Moreover, Loreal scored 99 out of 100 for its transparent climate policies. 
Lorel and its Strong ecological commitments :
Loreal launched the 'Sharing beauty with all' initiative global sustainability program in 2015. 

The program pledges to reduce environmental footprints by transforming manufacturing and operational activities by 2020. 

Loreal strongly pledges to derive 100 percent palm oil from sources that are certified by Roundtable on sustainable palm oil.

 Loreal has developed a 'sustainable palm oil and traceability tool (SPOT) to monitor the implementation.
A final verdict about why big companies going green?
Whew! 
That was a long read! 
But isn't it amazing to know how leading companies of different platforms are moving towards green solutions? 
An interesting fact to note is that maximum of those companies are American companies and still trying to go green even though Trump Administration backed out from the Paris Agreement. 
We hope we could change your mind about companies going beyond corporate social responsibilities (CSR) towards sustainable development goals and Paris Pledges. 
Influencer Companies are smart enough to adopt green initiatives & concern about Global warming & climate change, why don't we go for green steps.
To know more such amazing facts about amazing issues, stay tuned with Ecowowlife.