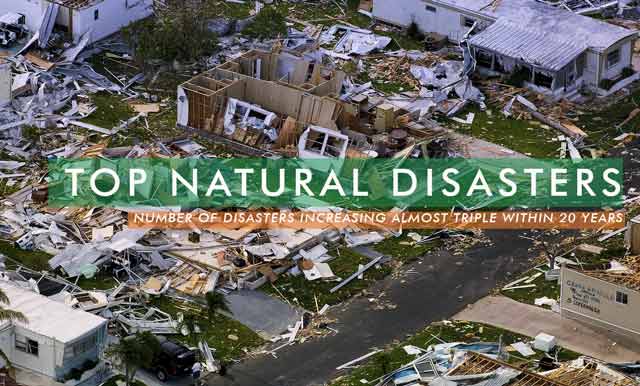 Every year the number of natural disasters is increasing at a very alarming rate. We are facing so many sad incidents about disasters. Starting from ice melting to avalanches, droughts to cyclones, our mother earth goes to big disasters.
The frequency of disasters increased manifold due to humans causing harm to the ecosystems. Among all these disasters, some disaster shook the whole world and humbled humanity. Nature vented out its anger on us.
Let us introduce you to the 15 top natural disasters of all time. These disasters were the headlines of worldwide and we all need to know these.
Get all you need to know about 15 worst disasters and how we recovered from those?
We also included some survival tips or Do's and Don'ts's while you face a disaster.
Happy reading and stay tuned for more!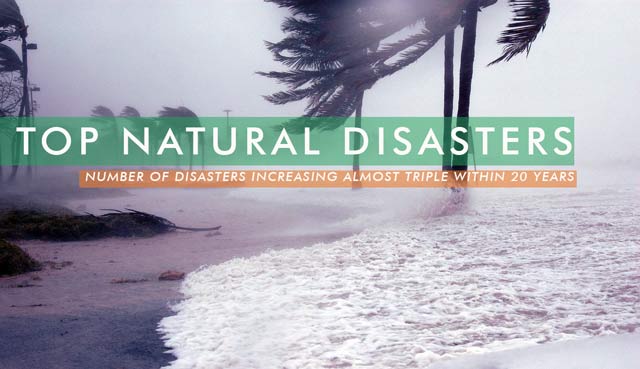 15 List Of Top Natural Disasters: That Shook The World!!
Tōhoku Earthquake and Tsunami 2011

Central China Floods, 1931

Indian Ocean Earthquake and Tsunami, 2004

Hurricane Katrina, 2005 

Mozambique Flood, 2000

European Heat Wave, 2003

East African Drought, 2011

Afghanistan Blizzard, 2008

New Zealand Earthquake, 2011

Bhola Cyclone, 1970

Tangshan Earthquake, 1976

The Daulatpur–Saturia, Bangladesh Tornado, 1989

Huascarán Avalanche, Peru, 1962

The Amazonian Forest Fire, 2019

Australian Bushfire, 2019
Erratic and extreme weather might occur anytime anywhere and this world has faced it many times. Even if you are a resident of the most remote area in the world, you will surely be familiar with disasters happening around you. As we continued to cause global warming with a huge amount of emissions every day, nature vented out its anger and humbled us by showing devastating disasters.
All types of anthropological actions leave the ineradicable imprint on nature, whether we want to or not. Experts emphasize widely on approximating the extent of human association to the incidence of natural cataclysms. Several people still distrust that mankind can sway nature to that extent; however, statistics claim the opposite.
The number and frequency of reported natural adversities upsurges every year. One of the causes for it is the growth of the data collection methods and raising awareness of different agencies that actively search for information about natural disasters.
Deforestation, agriculture, unplanned exponential urban development and destruction of natural wetlands rank amongst the most contributing factors to the problem.
Adaptation and Mitigation are possible ways to deal with natural disasters but with limited resources and increasing issues such as population growth, will the subtle policy changes be enough? Do you know how we survived those till today? Let us know all about these here!
At first, let's have a very harsh but true facts of our top 15 worst natural disasters –
#1. Tōhoku, Japan Earthquake and Tsunami, 2011: Fourth largest earthquake in history :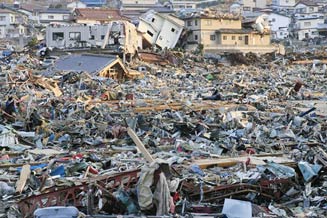 An Earthquake hit the East Coast of Japan 231 miles northeast of Tokyo in March 2011, causing a tsunami with 30-foot waves.
The tsunami-damaged nuclear reactors in the area and 100,000 people were evacuated from their homes to avoid radiation poisoning. The earthquake claims 15,893 lives causing an estimated 25 trillion yen ($300 billion) in damages.
#2. Central China Floods, 1931- Millions stuck and dead!!
The Central China floods that occurred in July and August 1931 are considered by many to be the greatest natural disaster in history, killing 3.7 million people in total from either drowning, disease or starvation.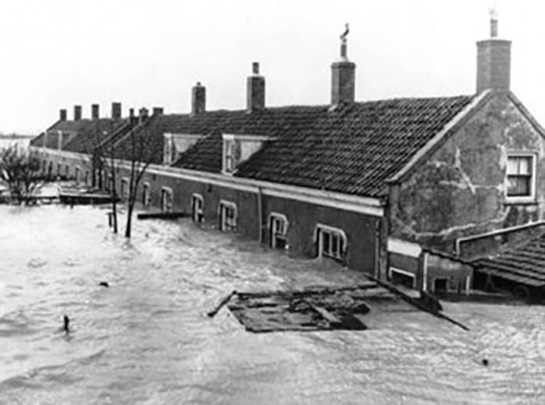 Heavy rainfall and numerous cyclones caused the Yangtze, Huai and Yellow Rivers to overflow. The situation was made worse when damage to the Yellow River, which was used heavily for trade, severely impacted the country's economy. Weather stations recorded 24 inches of rainfall, and in some areas, the water level rose to 16 meters.
#3. Indian Ocean Earthquake and Tsunami, 2004- A Sudden Trouble
The world was rattled by the Indian Ocean earthquake and tsunami that claimed the lives of 225,000 to 230,210 people on December 26, 2004. The epicenter of the 9.1 magnitude earthquake occurred in the Indian Ocean near Indonesia and caused major damage to 14 different countries.
There were no tsunami warning systems launched at that time and many people didn't have time to seek higher ground. Since then, tsunami-detecting systems have been put in place, but according to the United Nations, "critical gaps remain."
#4.Hurricane Katrina, 2005 – The third-strongest, but a most expensive hurricane in U.S. history-
Hurricane Katrina, that hit the Gulf Coast on August 29, 2005, cost $81 billion in property damages alone. Including economic damages to Louisiana and Mississippi, the estimation is closer to $150 billion.
The storm caused levees to fail, resulting in flooding that covered 90,000 square miles, submerged 80 percent of New Orleans in water and killed 1,836 people.
FEMA was criticized for a lack of preparedness and poor management of the disaster, resulting in the eventual resignation of FEMA director Michael Brown.
#5.Mozambique Flood, 2000- Flood-hit with a cyclone-
In early 2000, five weeks of heavy rainfall in South Africa led to severe flooding when two major rivers, the Limpopo and Zambezi, broke their banks. In just three days, Botswana received 75 percent of its annual rainfall, and the situation was worsened when two cyclones hit the area at the same time.
The floods damaged much of Mozambique's infrastructure, making transportation and access to clean water difficult and leaving up to a million people homeless. Damage to farms and crops severely damaged the economy and contributed to starvation. The Mozambique Government appealed for $76.5 million in aid to cover the costs.
#6.European Heat Wave, 2003- An Unusual disaster in Europe-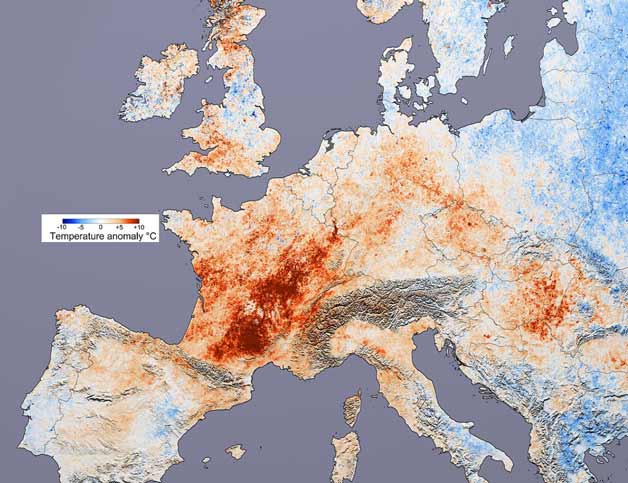 When most of us think of natural disasters we think of tornadoes, hurricanes, and floods, but heatwaves are responsible for more deaths than all three disasters combined.
A heatwave in August 2003 in Europe claimed at least 35,000 lives, primarily affecting the elderly, sick, or very young. The temperatures are the highest ever recorded in the Northern Hemisphere, and the Intergovernmental Panel on Climate Change predicts even higher numbers by the end of the century.
The heat led to drought as well, damaging 75 percent of Ukraine's wheat crop
#7.East African Drought, 2011- A humanitarian crisis-
This drought caused by two years of little rainfall led to a famine that took the lives of tens of thousands of people. Refugees from Somalia fled to Kenya, Ethiopia, Djibouti, and Yemen in search of food and water, causing a massive strain on the already poor countries. An estimated 12.4 million people required humanitarian assistance. Action Aid reported cases of women tying ropes around their waist to minimize feelings of hunger. . (
#8.Afghanistan Blizzard, 2008- The second worst blizzard in history-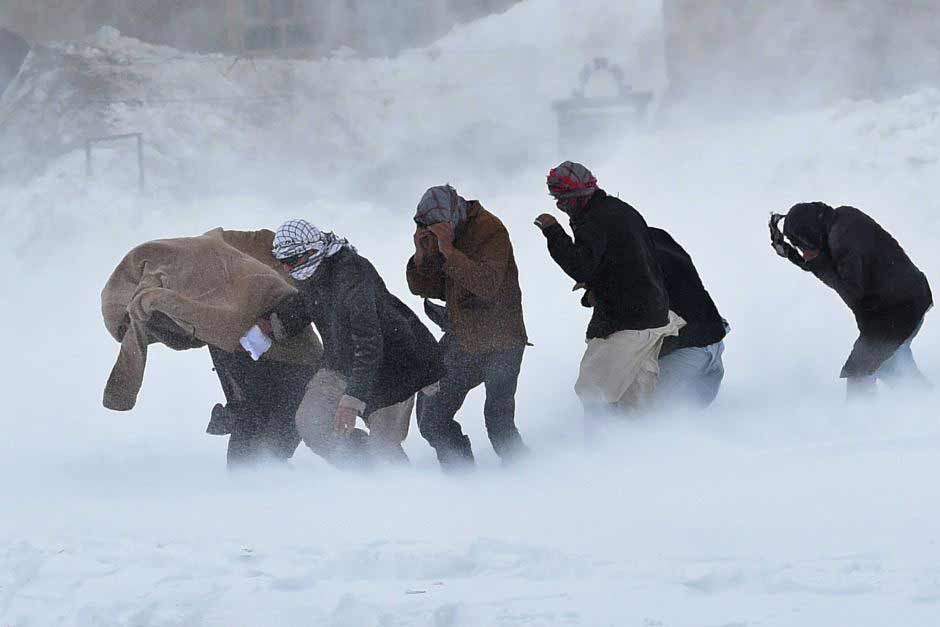 A 2008 blizzard in Afghanistan with temperatures reaching a low of –33 degrees C (or -22 degrees F). There were 926 casualties, with many people freezing to death, and 100 amputations as a result of frostbite. Hundreds of homes were ruined from avalanches and snowfall, and 315,000 cattle died.
#9.New Zealand Earthquake, 2011- Killing hundreds at a time-
On February 22, 2011, a 6.3 earthquake in New Zealand killed 185 people and injured thousands more.
The earthquake's epicenter was just over 6 miles from Christchurch, causing $15 billion New Zealand dollars ($10.4 billion U.S. dollars) worth of damages to the city.
Five months earlier, A 7.1 magnitude earthquake occurred which was larger, but less destructive than the February earthquake because it wasn't as shallow.
Additionally, the later earthquake caused buildings that had already been damaged from the earlier earthquake to collapse, which was the primary cause of fatalities.
#10. Bhola Cyclone, 1970- The famous cyclone in history-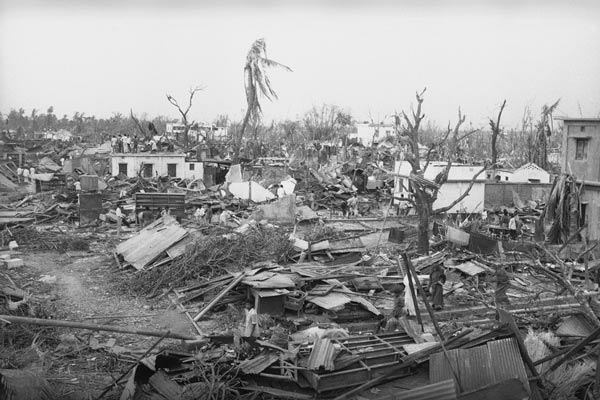 On November 12, 1970, the Bhola Cyclone—the deadliest cyclone ever recorded—struck East Pakistan (now Bangladesh). While it was only a category 3, 500,000 people died because the area affected was densely populated and close to sea level.
The devastating cyclone played a role in the creation of Bangladesh when the eastern area criticized western Pakistan for responding slowly with aid, encouraging the east to fight for independence.
#11.Tangshan Earthquake, 1976- A big collapse on China-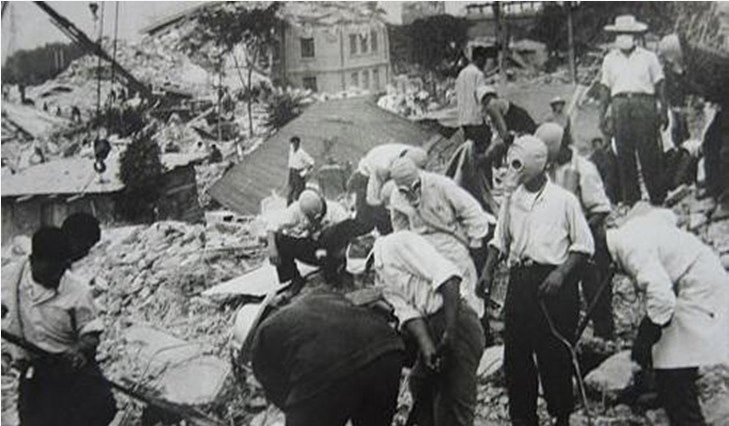 A 7.5 magnitude earthquake struck Tangshan, a Chinese city about 68 miles east of Beijing. Many of the deaths, which numbered at least 242,000 people, as a result of unreinforced masonry homes collapsing while people were sleeping, not allowing for enough time to seek cover.
While the earthquake only lasted 14-16 seconds, it was severe, injuring at least 700,000 people, not including casualties. Later that day, a 7.1 magnitude aftershock followed, resulting in more deaths.
#12.The Daulatpur-Saturia, Bangladesh Tornado, 1989- Deadliest Tornado in Bangladesh-
The deadliest tornado in history, the Daulatpur-Saturia, Bangladesh tornado, occurred on April 26, 1989, in the Manikganj District, Bangladesh.
It was around 1 to 1.5 mile wide and demolished everything in its path, killing 1,300 people, injuring 12,000 and leaving 80,000 homeless. In total, it caused $1.5 million in damages but would have been significantly higher had it occurred in a wealthier area.
#13.Huascarán Avalanche, 1962- Devastating Burden of Skyscrapers on Peru-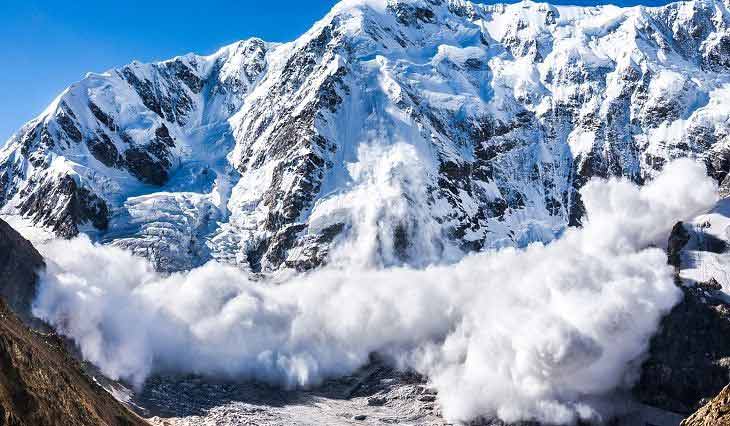 On January 10 of 1962, this deadliest avalanche occurred on the slopes of Mount Huascaran in Peru.
The avalanche killed 4,000 people. A glacier the size of two skyscrapers and weighing 6 tons broke and came barreling down the mountain, burying two towns in 40 feet of debris and ice. Covering 9-1/2 miles in seven minutes, few people had enough time to reach higher ground.
#14.The Amazon Rainforest Fire, 2019- Lungs of this Earth on Fire-
Although Amazon is a rainforest, Amazon does have a dry season which is a prime time for forest fires due to dryness. However, 2019 was a year when Amazon fires reached its highest peak than any other year in history.
This time, excessive deforestation influenced by the policies of the government of Brazil, ill motives of farmers and loggers have led to a devastating fire in Amazon.
Amazon is a home of 390 million trees and biodiversity richer than anywhere else in this world. No wonder why a devastating fire in the lungs of the world is one of the saddest news of 2019.
#15.Australian Bushfire, 2019 – Ending the year with a terror-
Recorded as the most devastating one, the Australian bush fire started in September 2019. This fire burnt around 25.5 million acres of New South Wales, killing around 1 billion animals and 27 people. Some of these people were volunteers and firefighters.
It is assumed that we will lose Koalas as extinct in this process. Australia being home to 244 indigenous species, is at a great loss. The potential impacts on wildlife are beyond imagination. This news scared the whole world while ending the year 2019.
Why The Number Of natural disasters increase almost triple within 20 years? Are the human responsible for this?
Earthquakes, avalanches, hurricanes, tsunamis, floods, droughts, and blizzards are just a few of the different types of natural disasters that have been occurring at an increased rate.
As the global warming issue gets more alarming with time. The possibility of storms and droughts is more likely to occur. Heated ocean surface leads to increased intensity of tropical storms.
But apart from climate change, we, humans are sadly the prime reason to cause these disasters. But is this all that causes disasters? So many disasters? Not. It is not natural that a number of disasters triple from 100 to 300 within 20 years.
Some examples are the most recent Australian Bushfire (2019) and Amazonian Forest Fires (2019) which are claimed to be caused by human-induced activities; as environmentalists said. Farmers wait for the dry season to burn the lands on fire so that the cattle can graze. Thus the traditional practice of tropical agriculture is a reason behind Amazonian forest fires. Such bad management policies also influence fire in Australia.
In the past, we also witnessed lots of worst man-made disasters such as The Bhopal Gas Leak, The Jilin Chemical Explosion, The Tennesse Coal Ash Spill, The Sidoarjo mud volcano, The North Pacific Garbage Patch, The Gulf War Spill, The Guiyu E-Waste Dump In China, Chernobyl, London's Great Smog, etc.
If we talk about floods, wetland destruction or wetland grabbing is an emerging concern. Disruption of natural wetlands causes obstacles inflow of water and thus, water logging is a big problem in urban settlements and thus leads to rising water levels during floods. Mismanaged drainage systems, improper planning of dam construction, excessive soil erosion due to unhealthy agricultural practices increase the damage of floods.
#Some Survival Tips for Natural disaster-
It is not an easy task to mitigate or adapt to disasters. Complex social, economic and environmental issues make it so difficult for us. In easy terms, we can differentiate the steps to be taken as long-term and short-term.
Immediate steps during natural disaster-
Firstly let's talk about the immediate steps to be taken during disasters. There are certain real-time do's and don'ts in times of these natural disasters:
Some do's and don'ts During Flash floods:
DO consider storm warnings very seriously.. Flash floods are very sudden and can be responsible for the highest death tolls per year.
DON'T try to drive across flooded roads because You do not know how deep the water is. Moreover, a piece of debris can immobilize your car at any time.
DON'T think dry conditions mean you are safe. While hiking, dry conditions are also not always safe. The rain can take a full day to traverse from one area to another.
Hurricanes
DO get to an elevated ground. If not possible, find to the roof of the tallest.
DON'T stay in an area that already received storm warnings. Try to evacuate as soon as possible.
DON'T try to hide in a basement.
DON'T travel on that disaster-prone site and take shelter rather than trying to escape at the last moment.
Some do's and don'ts During Earthquakes:
DO hide under something strong; for example A strong desk or infrastructure. Avoid glass windows as they can break on you anytime.
DON'T hesitate crying out for help.
DO turn off the gas lines
DON'T talk for a long time other than very urgent conversation over the phone. During emergencies, it is necessary to leave some floor for disaster-affected people so that they get phone lines free of clogging.
DO know the location of the epicenter beforehand.
DON'T immediately evacuate a building if you're a resident of an urban area and the structure seems stable because there's the danger of falling debris. Exit immediately if you fear that your building is old and not much strong.
Some do's and don'ts During Wildfires-
DO clear the brush around your house.
DON'T take for granted that. Fire moves in a certain direction always.
DO evacuate early.
DON'T gather all of your belongings, rather try to prioritize the absolute essentials. (cell phones, pets, critical medications, glasses, food)
Some do's and don'ts During Tsunamis-
DO get out fast from the area. It is necessary to know the evacuation routes if you live in a disaster-prone area
#Long-Term Preparedness for Disaster Risk Reduction –
NOW let's talk long term. How can vulnerable communities be resilient to disasters and adapt to the consequences on a long-term basis?
Vulnerable groups and countries need to keep 3 things in mind when planning for adapting to natural disasters.
• Structural resilience– Many vulnerable countries lack disaster-resilient infrastructure covering vital services such as water, sewer, and electricity. Enforcing strong building codes, zoning rules and early warning systems work as pillars of structural resilience.
• Financial resilience- The impact of disasters can be reduced, but not eliminated. Before a disaster strikes, planning for emergency financial needs should be done. A dedicated saving fund to tackle disaster needs is essential.
Social resilience- It is necessary that countries have detailed emergency response plans to tackle casualties after a disaster strikes and limit the impact on the most vulnerable. We also need to consider the socio-aspects and mental health of the affected communities.
#A Parting Thought :
There is no doubt that anthropogenic effects on climate change result in changes in the frequency and severity of disasters. However, the changes will not be even globally, with some areas experiencing more frequent events, other places less frequent events.
There are significant difficulty and uncertainty about these future trends but much research is ongoing to investigate this issue. So, the number of natural disasters occurring is on the rise but that is because of a set of interactions between the physical Earth system, human intrusion with the natural world and increasing exposure of human communities.
Extreme weather disasters affect all countries. However, as we face a future with enhanced risks, it is critical to face the reality of the affected communities and their struggles. Climate change is forcing people to flee from their homes, bringing poverty and increasing hunger. People in the least developed and developing countries are at least five times more prone to be emigrant by extreme weather than people in developed countries.
In this write-up, only the short brief of the top 15 natural disasters are given for reminding you about the natural redemption along with some hints of how a human being was responsible for those natural events?
The only way out of this is to go for green living & care of nature.