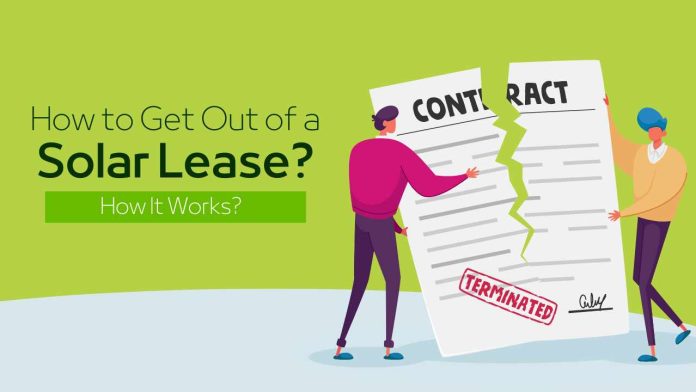 Solar power is an excellent choice if anyone wishes to live using renewable energy. Solar panels use sunlight and heat to produce energy that helps in household usage and many other areas.
Today, even industries use sun power to fulfil their goals. Many companies and tech giants have recently come in front to introduce solar power on a large scale. They provide various offers to increase solar power usage.
Buyers can lease solar panels at different negotiable conditions. But customers often can't cope with the policies of the companies. So, clients should be clear about how to get out of a solar lease.
How Does a Solar Lease Work?
It's effortless. People often rent things like cars, boats, houses, etc. Leasing solar panels are almost the same, except for some differences. Here, we can point out specific facts which would clear the concepts of leasing solar panels. 
A customer can have the solar panels and their utility but not the ownership of the panels.
The customer has to pay a certain amount every month. 
Some companies generally offer to purchase the panels at a reasonable price when the expiry ends. 
Now, here are some differences. 
If a customer uses solar lease escalation, the cost per month rises. 
The company takes the responsibility to install the solar panels. 
The authority monitors the activities of the solar panel until the deal comes to an end. 
When a customer leases solar panels, different terms and conditions come into being. Many providers give choices to the customers, and they can pick their own according to their needs.
Buyers often shorten the cost by reducing the maintenance facilities. When the expiry comes to its last chapter, the company generally offers a lease renewal. The customer can buy the leased panels if he wants an alternative option. 
Is Solar Lease Feasible for a User?
Although a user gets a comparative utility by leasing solar panels, several concerns occur here. Proper considerations can help a customer to be straightforward in this matter. In comparison with owning, solar leasing has some shortcomings for its customers.
Owning a solar panel increases the value of the house. On the contrary, solar leasing doesn't. It means that a solar lease gives the customer only the power utility. 
Companies that provide solar leases frequently offer minor maintenance when it comes. Of course, they give warranties for the solar lease they supply. In many cases, the timeline of the contract is longer than the expiry of the solar lease.  
Many buyers often think that purchasing solar panels is tough and leasing is easier. Customers often think it would be challenging to deal with the tax matters, income details, and yearly expenditure papers, which are usually not true. Companies often perform these for the buyers. 
Solar lease users face problems when the matter of selling the house comes. The new home-owner has to face the same terms and conditions as the former owner. It means the new owner has to persuade the provider company. If he doesn't show interest in it, it would not be easy. 
One vital point is that solar lease can't assure proper saving of customer's costs. Statistics show that buying a solar panel is more profitable in many cases. It's not the same in all of this matter, but, comparatively, it's the fact that it often happens today.
So, here are some of the realities that frequently come. Solar leasing is a fine example of renewable energy usage, but it has its limitations.
Buyers should choose according to the comparative advantages of different offers. Here comes the fact about how to get out of a solar lease.    
Get Out of a Solar Lease: Can Anyone Get Out of Solar Lease?
A buyer has to sign an agreement before he or she leases a solar panel. In terms and conditions, most of the companies offer an option for the customer.
He can buy the panel, and it depends on how the contract said the terms and conditions. But providers often don't want to get into this situation.
Let's take an example. A consumer who used solar lease for a certain period wished to buy the panel for 16,000 dollars. On the other hand, the company offered 21,000 dollars for it. 
So, we can see that getting out is not that easy. But it's not the only option to perform. Suppose the providing company has no specific date of selling the enduring expenses.
In that case, the buyer can purchase the system with the market price. On the other hand, buyers also have options to get out before inserting a solar lease.
Companies often provide alternatives for their clients. Generally, companies offer 30 days to move out from the agreement.
Companies often offer customers transfer options for the customers. A buyer can move his panels from one location to another.
But sometimes it seems more complicated because the cost happens to be high enough. Not only that, customers would need the acceptance of several authorities such as the city administration and the leaders of homeowners.
Why Someone Needs to Get Out of Solar lease?
For many people, a solar lease can be an amicable solution. Undoubtedly, it can reduce the cost of power consumption.
Moreover, it's one of the most excellent examples of green energy. Yet – for many others, it is not that convenient. Here's some reason:
A solar lease is often less profitable for a buyer. Well, tech giants often say that it can provide more gains than purchasing a solar panel. Also, the profit depends on how much power the panel can produce. Again, the company charges and the usage of the escalator here matters too. Usually, the average cost of the solar lease is lower than the traditional power grid system. But, here comes the circumstances of extra expenses. Although the price seems to be lower during the installation, it increases at a surprising rate due to the usage of the escalator. 
In the case of shifting destination, the solar lease could be a problem. One can't shift the panels if the provider company doesn't allow it. If moving becomes possible, installing the panels in a new house becomes harder. 
The service of the proving companies is often not that good. In many cases, complaints often occur about the service after installation, maintenance, and other monitoring of the solar panels. 
When the time comes to sell the house, the solar lease matters, the new owner of the house may not be eager to have the solar lease. Not only that, he may become disturbed by the maintenance of the system. 
So, these are the reasons for getting out of a solar lease. Of course, it has its functionality but has some shortcomings, too, for which many customers need to know how to get out of a solar lease.
What Someone Should Know About Cancelling Solar Lease?
If someone is a primary customer of solar lease, they must perceive some facts about it. It would help him or her to decide about it on the right track. Let's see what appears here-
Many provider companies offer a short-time opportunity for cancellation before the installation of the solar lease panel. Before signing the contract, a consumer should know the terms and conditions. 
Providers sometimes put forward cancellation offers for the consumers in case of other unwanted occurrences. For instance, one can face the need for his/her roof proper repairs. A customer should be aware of these matters. 
Offers of solar leases vary from company to company. Contracts generally exist from 10 to 20 years. Sometimes short-time agreements are easy to cancel. So, one should notice it before signing the contract. 
After installation, a solar lease deal is often tough to cancel. Customers often need legal procedures to perform a deed like this. 
If a house owner dies before expiring a leased solar panel, the contract remains the same until it runs out. 
Many provider companies offer buyout offers for their customers. It's another option to get out of the lease. Let's typify it. A customer can buy out the system for 15,000 dollars. 
More often, it occurs that there is no specific option of a buyout choice. The company recommends a purchase proposal for the client at the market price. 
Get Out of a Solar Lease: Things to Consider before you go for a Solar lease
Indeed, one can think of a solar lease as the best option for him/her. Well, the best or the worst depends on how a thing works for someone. The same thing goes for a solar lease. One should know something crucial before going solar lease. Here they are: 
The cost could climb up. One can discover it as double to triple in comparison with buying a solar panel. The expense increases because of the escalation factor. Not only that, after expiring the lease comes the point of a buyout or purchasing the system. So, it's good to think before leasing solar. 
The tax credit goes to the provider company if one goes solar lease. So, a client should think of it. Again, one should work earlier if he/she wants to purchase a system. 
Selling a home with a solar lease could be tricky. A new homeowner could disagree with buying a home with a solar lease. Buyout before selling a house could cost more. 
The monthly expenditure of a client could escalate up to 2% due to the pay escalator. 
Rather than purchasing solar, leasing solar can increase electricity costs. 
By going solar lease, a client doesn't own the system. So he/she can't add any backups like battery or others. So, no good change could possible here. 
Buying a solar panel by managing a bank loan is often a better option. In comparison with a solar lease, the cost is much lesser here. 
A client doesn't have to pay any taxes for a purchased solar panel. On the other hand, he/she bears all the costs when going solar lease. 
Leasing solar is like renting it before buying it. So, it's better to buy it before renting it. Therefore, purchasing a solar panel is better.
Get Out of a Solar Lease: Things to Consider After Getting a Solar Lease
For a client, a lot of changes will appear after going solar lease. And in many factors, these changes will occur. So, he/she should be aware of something so that consideration could be easy. Such as: 
The tax credit will not stay the same. After getting a solar lease, a client should be ready to count more money as taxes. 
Awareness about the options that the company gives is essential. A customer could deal with the provider about the terms and conditions of that. 
Knowing precisely about the proper expenditure is essential. It's better to understand all the costs of the lease. Taking care and maintenance can help him or her face any difficulties. 
A client should be sure about the technical service which the provider company serves. 
Being mentally ready in case of moving home is necessary. Difficulties could appear if a new homeowner doesn't want a solar lease. 
Being sure about the after tusks of expired date is crucial. One can choose a buyout or a purchase option. 
How Can a Buyer Approach Cancel a Solar Lease?
Although many similarities exist in the solar lease agreements, there is no universal contract code. Dissimilarities lie in terms, perspectives, and conditions the companies provide. A person who leases solar panels should know how to deal with the company and its requirements. 
Use your rights: A client has the right to know about the agreements of a solar lease. He has the right to have a copy of the contract, reading the entire contract to notice the shortcomings that could appear, and having the power to cancel the lease after a three-day installation. Utilizing one's consumer rights can help here in many respects. 
Take a lawyer's Help: A consumer can take a lawyer's help to understand how clear he/she would be about canceling a solar lease. State laws exist to safeguard the interest of the consumers. That doesn't mean one has to keep oneself fully against the provider's position. 
Offer an extension of cancellation timeline to the provider: Not all providing solar lease companies contain the same time-lapse to cancel after trial. A consumer can recommend his provider elongate the cancellation date. But here, assurance is not inevitable, it can work out sometimes. 
Be aware of the terms and conditions: By knowing the terms and conditions of the provider, a consumer can negotiate with the company. Although there are very few chances, providers could consider and make a soft approach towards their clients. 
Cancel a Solar Lease: Problems of Getting Out of a Solar Lease 
For many reasons, a consumer has to cancel a solar lease. But it could create several problems. Here they are- 
Consumers have to pay more to cancel a solar lease. A buyer can either choose buyout or purchase the system. 
Cancellation of the lease will make a maintenance problem appear. When the lease works, the authority does the maintenance for the consumer. But when it ends, it comes up to the consumer only. 
In the case of selling the home, the cancellation can create a problem. The new house owner may not be eager to have a solar panel. 
After cancellation, the company has fewer liabilities towards the solar system. 
Some Statistics
Data shows that solar leases often become costlier than any other options. Astonishingly, even solar loans are less expensive than solar leases. That's why solar lease has become less popular than before. Here, this figure shows the relative comparisons between solar leases and loans.
Another figure shows that many homeowners are eager to buy a solar panel rather than leasing one. Undoubtedly, its primary cost is excess, but solar lease expands its price gradually. It becomes a massive amount in the end. Considering this, many buyers choose to move.
In this data, we notice that the buying rate has increased annually. Of course, leasing grew as an acceptable option initially, but now it's an expensive way to execute. As a result, buying a solar panel is becoming popular.
Many affordable buying options are becoming famous. If we look at the figure below, we can experience this fact.
In this figure, we can compare the lease and the buying option by the third-party owner. Despite many circumstances, the cost of a solar lease is higher. A customer should consider it before taking a crucial decision.
Moreover, new choices are coming like alternate bright sides. For example, the solar loan is becoming popular. In the figure below, we can check the emerging number of solar loans replacing solar leases. Shortly, leasing solar may be the last option for a customer.
In these figures and data, one thing is common. Rather than a solar lease, other options to have a solar panel are often more accessible.
Leasing solar is primarily cheaper, but gradually a customer has to count more money. Again, when the lease expires, costs don't decrease at all.
FAQ's About Getting Out of a Solar Lease
Should anyone purchase or lease a solar panel? 
Experts suggest buying a solar panel rather than leasing it. Although it's cheap to hire solar primarily, purchasing one is ultimately profitable. If anyone lacks the money needed to buy one, going on a lease is a better option. 
Is it difficult to cancel a solar lease after installation? 
Yes, kind of. Either one has to buyout, or purchase the system. Before installation it's easy because providers give options to try. So, it's better to get out before the insertion. 
If anyone wants to sell his/her home, what can he do? 
He/she can transfer the lease agreements to the new owner, it's the first option. Or, he can purchase the system at a market price and set the value to the home. Here another choice comes, the consumer can repay his/her lease and transfer it to the home buyer. 
Customer can transfer the lease agreements to the new owner; news.energysage.com
What will happen in utility, state rebates, and tax credits? 
After canceling the solar lease, if the consumer purchases the solar, he/she has to deal with the payments of the utility, state rebates, and tax credits. Since he worked with the lease before, the liability was not upon him. But after purchasing these matters goes to the person who bought it. 
Does a payment escalator factor here in canceling the solar lease?
Yes, often. When someone leases a solar panel, a payment escalator begins to work. The rate varies, and the percentage includes in the lease payment. Some consumers can experience a considerable amount of charge.
Final Thought
Undoubtedly, solar electricity is an excellent choice to go green. Solar lease can be an acceptable option here. But leasing solar panels has its characteristics. And, of course, companies have their policies to operate.
Although it's updating gradually, leasing rules often become problems for consumers. Options exist about getting out of a solar lease, and it depends on when a customer wants to. Thoughtful steps help a consumer here to deal with it properly.
Summary
Today, the solar lease has become a common phenomenon in urban areas around the world. A consumer can have solar electricity by paying a certain monthly amount. Although it's beneficial, some severe limitations come here.
Probably, I can think that leasing is cheaper than purchasing solar, but expenses can rise for different causes. Also, many technical matters come here– including maintenance and payment escalator. That's why many customers seek the safest ways to get out of solar leases.