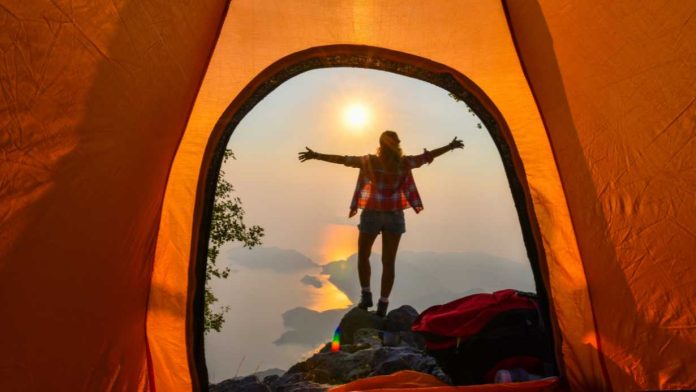 Indeed, we all love camping. We enjoy seeing mountains, rivers, forests, and other natural beauties during camping. Nature heals us by refreshing us mentally and relieving us from our city-life monotony. That's why camping has become a popular trend for folks who love to experience something new. In perfect camping, tents are inevitable parts. Those could be different in types; pop-up tents are one of those types. It's easy to deal with and very trendy.
Why pop-up camping tent
Now, what's unique about pop-up camping tents? Let's take a look at the features which these tents provide.
⦁ Don't have traditional tent poles.
⦁ You don't need to check a manual to use it.
⦁ It's pretty simple and easy to operate.
⦁ It opens up by itself, that's why it's convenient.
⦁ No need for extra maintenance.
⦁ It's adaptable in any situation.
During an adventurous and pleasant trip, a traveller; or a hiker doesn't want a tedious tent setup. It often gets bitter. A pop-up tent is the right choice for that.
How pop-up tents become trendy
Tents are as old as human civilizations. Almost in every ancient society, various types and shapes of tents appear as signs of human creativity. In the past ages, it was an inevitable way of survival.
Henri Hopkins Sibley first made the modern camping tent in 1856. It came as a military version of the ancient one.
In modern times, the tent has become a trend for recreation, although it's still an alternative to traditional houses in many parts of the world. Today, tents and backpacks are synonymous with hiking, mountaineering, and camping. We love travelling and love to stay like ancient human beings in our vacation time.
Usually, sleeping bags and pop-up tents are very similar, although pop-up tents open automatically. A popular belief goes that sleeping bags are the predecessor of pop-up camping tents. It became popular in the late '80s. Gradually, many versions of pop-up camping tents became popular.
Different types of pop-up tents
Lately, various pop-up camping tents have been in the markets to fulfil customers' needs. These tents vary in shape, size, space capacity, and purpose. Here are some contemporary
types of pop-up camping tents:
Cabin pop-up tent: It provides more space than the other pop-up tents. Even with its size, it's effortless to open. Only 60 seconds are enough to set it up. Buyers regard it as one of the best pop-up tents. Usually, two doors and net windows ensure proper air and light. About nine people can stay in such a tent without any problem.
Dome Shaped pop-up tent: It's easy to set up and carry. Typically, it contains space for 6 to 7 persons by and large. Usually, the smaller tents are more stable than, the larger ones.
Family pop-up tents: Normally, four persons can stay in a family pop-up tent. It generally contains two doors on each side. Windows are not part of these tents, but many exceptions could appear. There are ground vents for air. Easy zippers and net-made pockets are other excellent features of this tent.
Automatic pop-up tent: Normally, it's small and easy to move. It's lightweight and easy to carry. Despite being compact and small, it has two doors, windows, and vents of the net. It's perfect for summer camping and travelling.
Instant camping pop-up tent: Having two doors and no windows, it appears to be very easy to deal with two doors and no windows. A user can set it up in seconds. Zippers, lamp hooks, and pockets of nets are excellent features of these types of tents.
Although it's not a universal classification, pop-up tents are becoming popular with these names. This list could be longer because the above mentions the standard features.
Pop-up camping tent and eco camping
In recent times, eco camping has become very popular as a climate-related issue. It means creating very little or no impact on the environment during camping. Campers try to avoid any chance of pollution; that's why fossil fuel and machinery dependent on it can't be even a single part of this sort of camping. Being adventurous, it's convenient too.
Pop-up camping tents could be more likeable for eco campers as an option. Here are the reasons:
⦁ It's minimal and straightforward, so there is no harm at all to the surroundings.
⦁ Therefore, it takes up very little space and is relatively safe for wildlife.
⦁ It doesn't need to hassle setting up a tent, which often harms plants.
⦁ It creates very little or no hindrance for wild animals.
Things to consider before buying camping tents
Campers go out for adventure and thrill in an unconventional way. So, a good choice is mandatory. Anyone who wants to buy a pop-up camping tent should review several things before going.
Size: Pop-up tents range from more minor to a more significant type. If a single individual is buying a tent, he should choose a two-person tent for better relaxation. Although one person's type is prevalent, the other would be better for one camper. A 1-person pop-up tent is mostly 2 meters in length, 1 meter in width, and 1.5 meters in height.
Weight: To a great extent, pop-up camping tents are light in weight. A single tent for one person is mostly around 2 kilograms. If the weather is blowy, the tent couldn't be stable.
Center height: The height of the centre varies from one tent to another. A buyer could choose according to his way out. Some tents have the height for sitting or lying down only, while many others have some extra space up. Sometimes, more height means less width.
Way out: By and large, tents with more space contain at least two doors. But for a single camper, one entry is enough.
Elements: Polyester or nylon comes as common material for pop-up camping tents. And fibreglass poles are natural features that are cost-effective.
Water resistance: Usually, pop-up tents are waterproof. The elements in this resist wetness A camper needs to set up his tent in a dry area, as the materials are thin.
Ventilation: As synthetic materials are parts of pop-up tents, air can't move without proper ventilation. So, a camper should check proper ventilation, like windows, ceilings, etc.
Various pop-ups for various types of camping:
Camping tents differ, as campers do. They vary by nature, as well as by the needs of users. Keeping that concern in mind, companies offer various pop-up tents according to the diversity of camping. Here are some of the most excellent cases in point.
Quechua pop-up tent: Many buyers have regarded it as one of the best tents for 2-3 persons. It's white on the outside, but the black inside helps sleep. Despite having the space for 2, 3 persons could stay without any problem. Being completely weather-resistant, it helps to stop rain from getting in. For summer campers, it's the most excellent option. Even though some users found the packing process difficult, it's certainly a fine choice.
Coleman pop-up tent: This camping tent is appropriate for 2-4 persons. It's cheap, therefore, easy to cope with other expenses. It's fireproof, so during festive activities, it's safe. Its center height is not that high. Campers could only rest or sleep. According to some users, it isn't trouble-free to fold after use. Even with a low price, it's an excellent option.
Amaya pop-up tent: This tent is suitable for family campers. Around 4-6 people could stay in it without any problem. That indicates that it's heavier than the other types of tents. It also provides storage space for the campers. Inside it, a hook for a lantern imparts an excellent light option for users. It's a low-height tent, so campers could relax and chill by sitting or lying down. Being safe in lousy weather resists rain so that wetness couldn't be a problem.
Ubon pop-up tent: It's ideal for 2-3 people. Despite being large, it's pretty light in weight. Even though it has less ceiling height, it's wide enough to provide enough relaxing space. It has two doors and a hook on the top inside for a lantern. Door curtains ensure the front view for the campers. 2 inner pockets exist to store things. The tent's fabric is thin; consequently, it's air-friendly. According to some users, zippers sometimes create problems. By and large, it's an acceptable option to pick up.
Regatta waterproof Malawi: Usually, it's better for kids during camping. Because of its lightweight usage during stormy or wintry environments. Camping in backyards, it's an excellent choice for youngsters. Completely waterproof, so safety isn't a big issue in this case. Needed ventilators assure proper air for the kids. Some users experienced a little moisture to make the walls wet, yet it's handy.
Rebeam pop-up tent: It could be perfect for 1-2 persons. The best feature is that it's durable in the wind. So, it's an excellent choice if a camper is in a tropical area to spend a vacation. The black inside ensures a sound sleep after strenuous hiking. After wind experiments, proof that this tent can stand up to 6 to 5 kilometers of wind flow came out. Although a little heavy, it has other practicalities. It's flexible and handy. Some users experienced difficulties as the windows closed from the outside.
Things a buyer should know
Campers should notice several things before buying pop-up tents.
What size does he need? There are many size variations, and campers should consider the appropriate size to have a perfect tent. It often becomes a common scenario for space shortage during group camping.
If the elements durable or not? Oftentimes, tents get worst for choosing the wrong options.
Is the weight ok, or not? Sometimes less weight means a limited space or tiny walls for a tent, which couldn't be good enough.
Is it waterproof? It seems expected that although water-resistant, moisture could appear inside a tent, especially on the walls.
Are the entrances ok? The number of doors and their qualities should be good enough.
Are there proper ventilators? A camper must stay safe in the tent.
Where is the camper moving? The type of tents could be different according to that. In a snowy environment, a typical tent wouldn't work.
What's the purpose of camping? If a camper goes with a group to spend his vacation, then a tiny tent can't be practical at all.
Pop-up tents, weather, and safety
Undoubtedly, safety is the priority during camping out. The weather could get extreme at any time; a camper should be conscious of that. Natural disasters vary according to geographical differences, and precautions should be appropriate according to that.
Lightning: It's a possible common danger during camping. A camper shouldn't set his tent up near metal bodies. The top of the hills or open zone during lightning isn't safe. Camping near big trees is also not a good option then. Tents should be in secured areas, far from the tallest structures.
Sudden swamping: In the American Midwest area, it's prevalent. When it occurs, a camper should move to a safe zone nearby. A person in adventure likes to set his tent on the bank of a river, but he should leave if there is any single possibility of a flood.
Hailstorm: During heavy hail, a camper should pack his tent up and take shelter amidst many trees or any nearby shelters. In this case, sheltering under a single tree isn't the right choice.
Hurricane: When a hurricane sign appears, a camper must first pick up his essential things. It includes the first aid box, lamps, fire-ignitors, and so on. Taking down the tent and moving to a safe zone would be the perfect option.
The durability of pop-up tents
Generally, a pop-up tent goes with the ability to work in heavy sunshine, a rainy environment, and even in the winter wind. Polyester and synthetic materials are elements of these tents, so typically, it's water or moist-proof. Durability repeatedly depends on ways of usage.
A user should be careful and aware of using the tent properly.
The camper should avoid rough usage.
Although these tents don't need extra maintenance, users should sometimes check the bones and other parts.
Pros and cons of pop-up tents
Pros:
It takes level than 10 minutes to start it up. Although unbelievable, it's true. Fortunately, It's the most attractive feature of a pop-up camping tent.
A pop-up tent takes very little time to take it down. The maximum time is 1.5 minutes if the camper is an armature.
It's effortless to bring. Being comparatively lightweight, It's convenient for a camper.
For a beginner, it's the most excellent option to have.
In the case of backyard camping, nothing can be suitable like it.
It's child-friendly. Therefore kids could also use it finely during camping.
For solitary campers, it could be perfect in many cases.
Cons:
In a small pop-up tent, proper ventilation couldn't get easier.
After packing, it could get heavier; therefore, difficult to bring.
Although waterproof, sometimes too much moisture can get the inside wet.
As it's automatic, sometimes the folding could be challenging to perform.
Sometimes, pop-up tents have no weather protection at all.
In a pop-up tent, poles are difficult to place.
Some key facts about pop-up camping tents
It's hard to find the true inventor of pop-up tents. David Rowe made the first lightweight tent in the '70s. Since then, the design has come to the figure of today.
Pop-up tents are usually waterproof, but many complaints come from the campers that the inside wall got wet during camping. It's not an uncommon phenomenon.
Although some pop-up tents could work in the wind, generally, these tents are not that wind-friendly, according to many campers.
Sometimes, it seems easy to set up a tent, but difficult to set that down. Because of the automatic feature, this problem takes place.
It could be an acceptable option for single usage for campers to experience. It's easy to bring and easy to deal with.
Conclusion
The pop-up camping tent is a recent trend of many campers. For its simple attributes, it's becoming popular gradually. It's easy to move with and light in weight; consequently, it's perfect for active campers. Users could handle minimal problems in maximum cases. Of course, it has its drawbacks; yet it could be more pleasing than the present version shortly.
Summary
In recent times, pop-up camping tents have become very popular. It's pretty different from traditional camping tents. It's relatively light, and the most fantastic feature is that the setting up is elementary. According to the needs of campers, many types of pop-up tents are on the market. They vary in size, shape, and space that they take. Generally, polyester and synthetic elements are the materials for pop-up tents. As it's easy to deal with, today's campers often choose it as their priority.