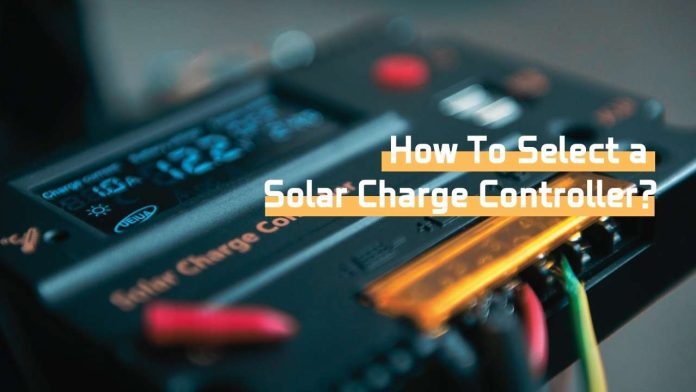 Solar energy is becoming an increasingly popular choice for greening, powering homes and businesses, but how do you ensure that the energy generated by your solar panels is stored and used efficiently? The answer is a solar charge controller!
A solar charge controller is an electronic device that regulates the flow of electricity from the solar panels to the battery.
It prevents overcharging and over-discharging of the battery, ensuring that the battery lasts longer and performs better. But with so many different types of solar charge controllers on the market, how do you select the right one for your system?
In this article, we'll guide you How To Select a Solar Charge Controller taking into consideration factors such as battery type, panel voltage, and current. With this information, you'll be able to choose a solar charge controller that best fits your needs and ensures the longevity of your solar system.
The solar charge controller is becoming an unavoidable option for solar energy users. Consumers need to use batteries to save energy, but they often get overcharged. Charge controllers control the power supply from solar modules to the batteries. 
About solar charge controller
Talking simply, a solar charge controller keeps batteries safe from overcharging. Typically, it stays between the solar array and the battery bank. It keeps batteries safe from overcharging. Also, power can't go backward to the solar panels because of the charge controller. Although managing the charge is an elementary task, some controllers have extra features, like load control or lighting. 
Why should a user need it?
To charge a battery safely. 
For safeguarding the lifespan of the battery bank. 
Choosing an appropriate size for the solar charge controller
Usually, a solar array's current and voltage determine the size of a solar charge controller. Usually, 12, 24, and 48 volts are the standard features of solar charge controllers.
The amperage range generally lies between 1 to 60, where the voltage range stays between 6 to 60. A solar panel calculator could help a user to choose a suitable controller. 
Let's take an example. If a user has a solar system with 12 volts and 14 amperes, he needs a controller of at least 14 amperes. Extra 25% should add due to environmental issues so that the amperes would be 17.5. Therefore, the users need a 12 volt 20 amperes solar charge controller. 
Guidelines for How To Select a Solar Charge Controller
A user must choose the perfect solar charge controller for his panel. In the case of remote solar systems, good performance and stability are essential. Inferior performance could cause renewal of the battery bank. 
Solar charge controllers deal with excessive heat. So, cooling is a crucial issue here. Small charge controllers often don't have fans. As a result, simple submissive cooling ensures heat safety. Having no fans has three benefits: 
They become more dependable. Fans are the only moving part of a solar charge controller, so choosing a controller with no fan would cause minor failure. 
Fans cause dust and small insects to go inside, which could jam the charge controller inside. 
Fans require electricity that comes from solar panels. So, it seems like a waste—the feature of having no fan cause avoid this misuse. 
Lately, more significant charge controllers have appeared in the markets, fanless. These are technically advanced and controllable from a distance and require critical monitoring.
Factors to Consider When Deciding to Buy a Charge Controller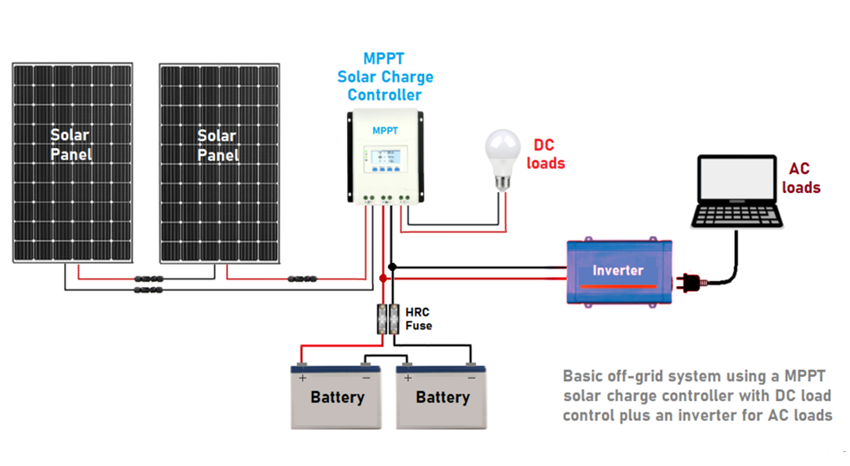 Types of solar charge controllers 
At present, primarily three types of solar charge controllers consummate the needs of the users: 
Simple 1 to 2 stage control: It's pretty simple, makes short to the solar panel when a specific voltage appears. Having no complexities, these controllers work as disconnecting tools to the panels when necessary. 
The PWM (pulse width modulated): These controllers monitor the power flow to the battery by decreasing the electricity slowly. PWM charge controllers keep providing a minimal amount of current to keep batteries full when they are full. These solar controllers are perfect for small-scale consumption because the solar panels and the batteries need to match the voltage. 
The MPPT (Maximum Power Point Tracking): These charge controllers allow the solar panels to perform full power to charge batteries. These devices monitor and regulate their efforts to control the current of the solar systems. MPPT controllers abdicate the voltage and increase the current. It shows 90% efficiency or more. It could decrease the amount of current if it needs to in a darkened environment. In reverse, it could increase the current when there is sunlight again. 
How can a consumer control a charge controller from a distance?
Recently, remote controls for solar charge controllers have been available in the markets. For both the PWM and the MPPT charge controllers, they work exquisitely. They work as programming parameters of the controllers. Users can browse the actual measurements of the charge controller. 
The Ellies, a leading South African company, produces remote controls for solar charge controllers. These devices are easy to handle and work perfectly. 
Performance variations of different types 
Lately, the PWM and the MPPT solar charge controllers have become popular as functioning devices. Both work deftly by their ways which are distinct from each other. 
The PWM charge controllers work straight from the solar array to the battery bank. It takes down the array voltage to keep matched with the battery voltage. And MPPT charge controllers fit down the panel voltage to the battery voltage. 
In PWM, the battery voltage increases as the battery charges. On the other hand, in MPPT, the current climbs when the voltage goes down. That means then the user utilizes the power from the panel directly. 
MPPT charge controllers match the internal resistance to the solar panel resistance. The PWM doesn't have this feature. 
MPPT charge controllers have a charging efficiency of 98%. In reverse, PWM controllers provide only 75-80% efficiency. 
Things to consider in a solar charge controller
A solar charge controller connects a solar panel and a battery. It keeps the battery safe from overcharging. As a customer wants the best output, so he must keep in mind some decisive facts about solar charge controllers: 
PWM or MPPT: A user should be careful when choosing a suitable solar charge controller. At present, MPPT is trendy and more efficient than PWM. In a PWM, the charger restrains the power output. In contrast, MPPT provides maximum results. 
Maximum PV open voltage: This value is the highest voltage a charge controller could receive. In a solar array, electric connections could be series or parallel. In the case of similarity, the voltage remains the same while the current increases, in parallel, the vice versa. 
The maximum PV short Circuit current is the charge controller's highest current. For example, if 4 9.8 ampere solar panels are in 2 series in parallel, the maximum current is 19.6 ampere. 
Battery voltage: Solar charge controller keeps the battery safe by regulating charge ups and downs. So, batteries should be perfect at voltage. Most MPPT controllers spontaneously detect the voltage of the batteries. 
Highest Battery charge current: This value determines the speed of charging the battery. Lately, LiFePO4 batteries can receive a quick charge. 
Some notable solar charge controllers:
Epever charge controller: It's an MPPT solar charge controller with a 12-24-volt battery voltage, 100 volts of maximum input voltage, and 30-ampere maximum current output. It has an LCD screen PC software and supports a remote meter. Most users confirmed a 99.5% efficiency of this charge controller. It's excellent for off-grid solar panel systems. 
Outback Flexmax 80FM80 80 Ampere charge controller: As an MPPT solar charge controller of 12-60-volt battery voltage and 150-volt maximum input voltage, it's a good choice. It can support huge types of batteries and solar panels. It's programmable and has a backlit display and temperature control. 
MidNite Solar Classic 150 Charge Controller: An MPPT solar charge controller with 12-72-volt battery voltage and 150-volt maximum input voltage. The maximum current output is 96 amperes. An arc fault detection breaks a circuit when it finds fatal electric arcs. 
Victron SmartSolar 100/50 Charge controller: An MPPT solar charge controller includes 12-48-volt battery voltage and 150-volt maximum input voltage. Its maximum current output is 100 amperes. It has a Bluetooth connection and a remote management portal. 
Renogy Wanderer: A PWM solar charge controller with 12-volt battery voltage and 25-volt maximum input voltage. The maximum current output is 30 amperes. Including LED indicators and protections against charging excess, it's very cost-effective. 
How to match solar panels with charge controller
A DC or AC converter could make the whole system much adjustable. Modules could be in series or parallel; Then, the input power will rise exquisitely. The Blue Solar MPPT has this feature. 
Sometimes, a large solar array helps fulfill the power needs in winter. One feature includes more pick power than the charge power of a specific MPPT charge controller. The maximum PV open-circuit voltage and the short circuit current determine the oversizing. 
FAQs
What is a solar charge controller? 
It's a voltage and current regulator that works with solar power. Monitoring the power input from solar panels to provide enough power output is its primary task. Solar charge converters are also on the list of charge controllers. 
Which is the best type of charger between PWM and MPPT?
Lately, the MPPT type has become the more workable type of solar charge controller. In general, it's 30% more efficient than the PWM type. 
What is the standard voltage of a solar charge controller?
Usually, charge controllers appear in 12, 24, and 48 volts. The rate of current comes in 1 to 60 amperes. 
When should someone use a solar charge controller?
Its primary duty is to regulate the charging, to control the current and voltage to the battery for the safeguard issue. Usually, a low-power solar panel can work efficiently without a charge controller. 
How far can a charge controller stay from a solar panel?
Usually, 20 to 30 feet. No excess space is necessary to place a solar charge controller. 
How many batteries can a charge controller operate?
The capacities of the charge controller vary from 4 to 80 amperes. Different charge controllers can perform in parallel for the more extensive solar battery system.
Final thought
Solar charge controllers save the batteries by keeping them safe from charging too much. Having a complex performing process ensures the safety of the battery storage. Lately, different charge controllers have been carrying out unique performances for safe renewable power. Technical features will surely upgrade at a promising height shortly. 
In conclusion, selecting a solar charge controller is an important step in designing a solar power system.
When choosing a solar charge controller, one must consider factors such as the type of battery being used, the size of the solar panel array, and the desired charging voltage.
It's also important to consider the maximum current and voltage ratings and the operating temperature range. By taking the time to properly evaluate these factors, you can ensure that you how to select a solar charge controller that will perform effectively and efficiently in your solar power system.
Summary
As solar panels churn out electricity from sunlight, they need batteries to save usable energy. Chargers refuel batteries, but a battery can sustain limits of energy. Solar charge controller ensures the proper charging of batteries. They regulate the current and voltage of the power generated from the solar modules. Usually, PWM and MPPT are well-liked versions of solar charge controllers. Lately, the MPPT version has become famous for its advanced features. Recent upgrades make charge controllers more efficient in many ways.